LOCAL AUTHORITIES' attempts to strengthen the lorry parking controls in
6th April 1985
Page 5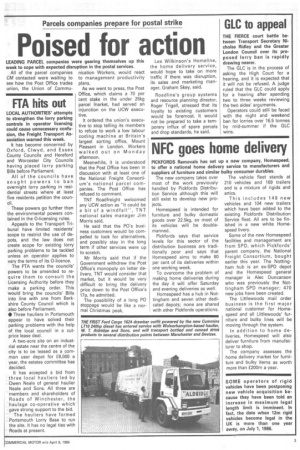 Page 5, 6th April 1985 —
LOCAL AUTHORITIES' attempts to strengthen the lorry parking controls in
Close
operator licensing could cause unnecessary confusion, the Freight Transport Association warned this week.
It has become concerned by Oxford, Clwyd, and Essex County Councils and Hereford and Worcester City Councils having placed lorry parking Bills before Parliament.
All of the councils have sought powers to ban overnight lorry parking in residential streets where at least five residents petition the council.
These powers go further than the environmental powers contained in the 0-licensing rules.
Appeals to the Transport Tribunal have limited residents' scope to restrict the use of depots, and the law does not create scope for existing lorry parking problems to be tackled unless an operator applies to vary the terms of its 0-licence.
The FTA wants the councils' powers to be amended to require them to consult the Licensing Authority before they make a parking order. This would bring the councils' Bills into line with one from Berkshire County Council which is also before Parliament.
• Three hauliers in Portsmouth appear to have solved their parking problems with the help of the local council in a cutprice lease deal.
A two-acre site on an industrial estate near the centre of the city is to oe leased as a common user depot for £6,000 a year, the estates committee has decided.
It has accepted a bid from three local hauliers led by Owen Neale of general haulier Neale and Sons, All three are members and shareholders of Roads of Winchester, the haulage co-operative which gave strong support to the bid.
The hauliers have formed Portsmouth Lorry Base to run the site. It has no legal ties with Roads at present.