Better services for drivels
6th April 1985
Page 42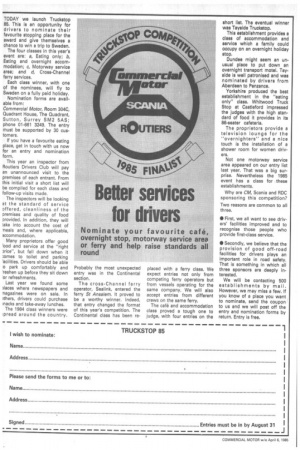 Page 42, 6th April 1985 —
Better services for drivels
Close
Nominate your favourite café, overnight stop, motorway service area or ferry and help raise standards all round
TODAY we launch Truckstop 86. This is an opportunity for drivers to nominate their favourite stopping place for the award and give themselves a chance to win a trip to Sweden,
The four classes in this year's event are: a, Eating only; b, Eating and overnight accommodation; c, Motorway service area; and d, Cross-Channel ferry services.
Each class winner, with one of the nominees, will fly to Sweden on a fully paid holiday.
Nomination forms are available from: Commercial Motor, Room 304C, Quadrant House, The Quadrant, Sutton, Surrey SM2 5AS; phone 01-861 3249. The entry must be supported by 30 customers.
If you have a favourite eating place, get in touch with us now for an entry and nomination form.
This year an inspector from Routiers Drivers Club will pay an unannounced visit to the premises of each entrant. From this initial visit a short list will be compiled for each class and follow-up visits made.
The inspectors will be looking at the standard of service offered, cleanliness of the premises and quality of food provided. In addition, they will ake into account the cost of -neals and, where applicable, accommodation.
Many proprietors offer good 'ood and service at the "right Nice", but fall down when it .lomes to toilet and parking 'acilities. Drivers should be able o park up comfortably and reshen up before they sit down or refreshments.
Last year we found some alaces where newspapers and nagazines were on sale. In )thers, drivers could purchase nacks and take-away lunches. The 1984 class winners were ,pread around the country. Probably the most unexpected entry was in the Continental section.
The cross-Channel ferry operator, Sealink, entered the ferry St Ansafem. It proved to be a worthy winner. Indeed, that entry changed the format of this year's competition. The Continental class has been re placed with a ferry class. We expect entries not only from competing ferry operators but from vessels operating for the same company. We will also accept entries from different crews on the same ferry.
The café and accommodation class proved a tough one to judge, with four entries on the short list. The eventual winner was Tayside Truckstop.
This establishment provides a class of accommodation and service which a family could occupy on an overnight holiday stop.
Dundee might seem an unusual place to put down an overnight transport motel. Tayside is well patronised and was nominated by drivers from Aberdeen to Penzance.
Yorkshire produced the best establishment In the "eating only" class. Whltwood Truck Stop at Castieford Impressed the judges with the high standard of food it provides in its 86-seater cafeteria.
The proprietors provide a television lounge for the "overnighters" and a nice touch is the installation of a shower room for women drivers.
Not one motorway service area appeared on our entry list last year. That was a big surprise. Nevertheless the 1985 event has a class for .these establishments.
Why are CM. Scania and RDC sponsoring this competition?
Two reasons are common to all three.
• First, we all want to see drivers' facilities improved and to recognise those people who provide first-class service.
• Secondly, we believe that the provision of good off-road facilities for drivers plays an important role in road safety. That is something in which all three sponsors are deeply interested.
We will be contacting 500 establishments by mail. However, we may miss a few. If you know of a place you want to nominate, send the coupon to us and we will post off the entry and nomination forms by return. Entry is free.