Speeding and the eight-hour day
6th April 1985
Page 26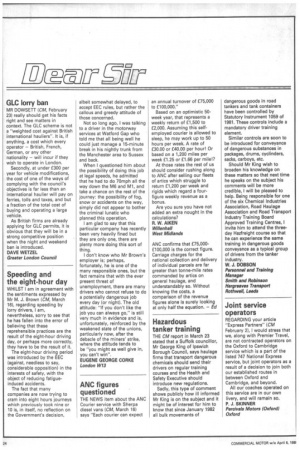 Page 26, 6th April 1985 —
Speeding and the eight-hour day
Close
WHILST I am in agreement with the sentiments expressed by Mr M. J. Brown (CM, March 16), regarding speeding by lorry drivers, I am,
nevertheless, sorry to see that he has fallen into the error of believing that these reprehensible practices are the result of the eight-hour driving day, or perhaps more correctly, they have to be the result of it.
The eight-hour driving period was introduced by the EEC (against, needless to say, considerable opposition) in the interests of safety, with the object of reducing fatigueinduced accidents.
The fact that many
companies are now trying to cram into eight hours journeys which previously took nine or 10 is, in itself, no reflection on the Government's decision,
albeit somewhat delayed, to accept EEC rules, but rather the callous and greedy attitude of those concerned.
Not so long ago, I was talking to a driver in the motorway services at Watford Gap who told me that all being well he could just manage a 15-minute break in his nightly trunk from the Manchester area to Sussex and back.
When I questioned him about the possibility of doing this job at legal speeds, he admitted that he had to do 70mph all the way down the M6 and Ml, and take a chance on the rest of the journey: the possibility of fog, snow or accidents on the way, simply did not appear to bother the criminal lunatic who planned this operation.
I am glad to say that this particular company has recently been very heavily fined but they are only one, there are plenty more doing this sort of thing.
I don't know who Mr Brown's employer is; perhaps, fortunately, he is one of the many responsible ones, but the fact remains that with the ever present threat of unemployment, there are many drivers who cannot refuse to do a potentially dangerous job every day (or night). The old attitude: "If you don't like the job you can always go," is still very much in evidence and is, unfortunately, reinforced by the weakened state of the unions, particularly now, after the debacle of the miners' strike, where the attitude tends to be "You might as well give in, you can't win".
EUGENE GEORGE CORKE London W13