ANC figures questioned
6th April 1985
Page 26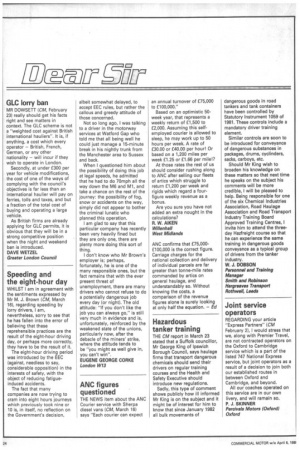 Page 26, 6th April 1985 —
ANC figures questioned
Close
THE NEWS item about the ANC Courier service with Sherpa diesel vans (CM, March 16) says "Each courier can expect
an annual turnover of £75,000 to £100,000."
Based on an optimistic 50week year, that represents a weekly return of £1,500 to £2,000. Assuming this selfemployed courier is allowed to sleep, he may work up to 50 hours per week. A rate of £30.00 or £40.00 per hour! Or based on a 1,200 miles per week £1.25 or E1.66 per mile!?
At those rates the rest of us should consider rushing along to ANC after selling our fleets of artics which struggle to return £1,200 per week and rigids which regard a fourfigure weekly revenue as a bonus.
Are you sure you have not added an extra nought in the calculations?
R. W. AIKEN Willenhall West Midlands
ANC confirms that £75,000£100,000 is the correct figure. Carriage charges for the national collection and delivery of individual parcels are far greater than tonne-mile rates commanded by artics on general haulage, and understandably so. Without knowing the costs, a comparison of the revenue figures alone is surely looking at only half the equation. — Ed