New Fiat vans in the offing
6th April 1985
Page 24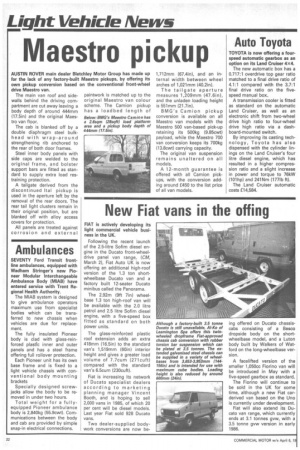 Page 24, 6th April 1985 —
New Fiat vans in the offing
Close
FIAT is actively developing its light commercial vehicle business in the UK.
Following the recent launch of the 2.5-litre Sofim diesel engine in the Ducato front-wheeldrive panel van range, (CM, March 2), Fiat Auto UK is now offering an additional high-roof version of the 1.3 ton shortwheelbase Ducato van and a factory built 12-seater Ducato minibus called the Panorama.
The 2.92m (9ft 7in) wheelbase 1.3 ton high-roof van will be available with the 2.0 litre petrol and 2.5 litre Sofim diesel engine, with a five-speed box fitted as standard on both power units.
The glass-reinforced plastic roof extension adds an extra 418mm (16.5in) to the standard van's 1,519mm (60in) interior height and gives a greater load volume of 7.7cum (271cuft) compared with the standard van's 6.5cum (230cuft).
Fiat is increasing its network of Ducato specialist dealers according to marketing planning manager Vincent Booth, and is hoping to sell 2,000 vans in 1985, of which 20 per cent will be diesel models. Last year Fiat sold 928 Ducato vans.
Two dealer-supplied bodywork conversions are now be ing offered on Ducato chassiscabs consisting of a Besco dropside body on the shortwheelbase model, and a Luton body built by Walkers of Watford on the long-wheelbase version.
A facelifted version of the smaller 1,050cc Fiorino van will be introduced in May with a five-speed gearbox as standard.
The Fiorino will continue to be sold in the UK for some time, although a new Fiat carderived van based on the Uno is currently under development.
Fiat will also extend its Ducato van range, which currently ends at 3.1 tonnes gvw, with a 3.5 tonne gvw version in early 1986.