Polo van coming
6th April 1985
Page 23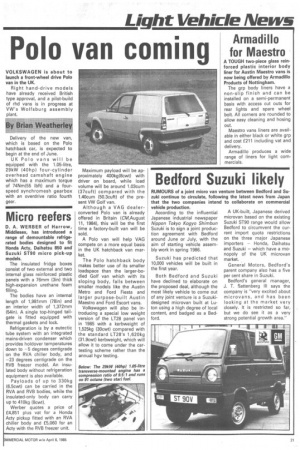 Page 23, 6th April 1985 —
Polo van coming
Close
Keywords :
Road Transport
,
Hatchbacks
,
Subcompact Cars
,
Coupes
,
Station Wagons
,
Car Body Styles
,
Volkswagen
,
Van
,
Austin Maestro
,
Ford Escort
,
Volkswagen Polo Mk2
,
Volkswagen Polo Gti
VOLKSWAGEN is about to launch a front-wheel drive Polo van in the UK.
Right hand-drive models have already received British type approval, and a pilot-build of rhd vans is in progress at VW's Wolfsburg assembly plant.
Delivery of the new van, which is based on the Polo hatchback car, is expected to begin at the end of June.
UK Polo vans will be equipped with the 1.05-litre, 29kW (40hp) four-cylinder overhead camshaft engine which has a maximum torque of 74Nm(55 lbft) and a fourspeed synchromesh gearbox with an overdrive ratio fourth gear. Maximum payload will be approximately 400kg(8cwt) with driver on board, while load volume will be around 1.03cum (37cuft) compared with the 1.40cum (50.3cuft) of the present VW Golf van.
Although a VAG dealerconverted Polo van is already offered in Britain (CM,August 11, 1984), this will be the first time a factory-built van will be sold.
A Polo van will help VAG compete on a more equal basis in the UK hatchback van market.
The Polo hatchback body makes better use of its smaller loadspace than the larger-bodied Golf van which with its sloping body, falls between smaller models like the Austin Metro and Ford Fiesta and larger purpose-built Austin Maestro and Ford Escort vans.
Volkswagen will also be introducing a special low weight version of the LT28 panel van in 1985 with a kerbweight of 1,526kg (30cwt) compared with the standard LT28's 1,620kg (31.9cwt) kerbweight, which will allow it to come under the cartesting scheme rather than the annual hgv testing.