A MAJOR review of London Regional Transport's bus network has
6th April 1985
Page 21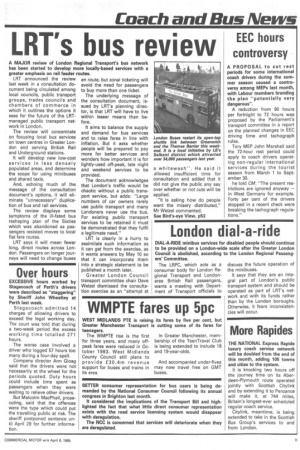 Page 21, 6th April 1985 —
A MAJOR review of London Regional Transport's bus network has
Close
been started to develop more locally-based services with a greater emphasis on rail feeder routes.
LRT announced the review last week in a consultation document being circulated among local councils, public transport groups, trades councils and chambers of commerce in which it outlines the options it sees for the future of the LRTmanaged public transport network in London.
The review will concentrate on focusing local bus services on town centres in Greater London and serving British Rail and Underground stations.
It will develop new low-cost services in less densely populated areas, and determine the scope for using minibuses and shared taxis.
And, echoing much of the message of the consultation document's options, it will eliminate "unnecessary" duplication of bus and rail services.
The review displays some symptoms of the ill-fated bus reshaping plan of the Sixties which was abandoned as passengers resisted moves to local flat fare routes.
LRT says it will mean fewer long, direct routes across London. Passengers on longer journeys will need to change buses en route, but zonal ticketing will avoid the need for passengers to buy more than one ticket.
The underlying message of the consultation document, issued by LRT's planning director, is that LRT will have to live within lesser means than before.
It aims to balance the supply and demand for bus services and to raise fares in line with inflation. But it asks whether people will be prepared to pay more for better services and wonders how important it is for lightly-used off-peak, late night and weekend services to be provided.
The document acknowledges that London's traffic would be chaotic without a public transport service, but adds: "Large numbers of car owners rarely use public transport and many Londoners never use the bus. For existing public transport services to be retained it must be demonstrated that they fulfil a legitimate need."
LRT is clearly in a hurry to assimilate such information as it can get from the exercise, as it wants answers by May 10 so that it can incorporate them into a strategic statement to be published a month later.
Greater London Council transport committee chair Dave Wetzel dismissed the consultation exercise as an "attempt at a whitewash". He said it allowed insufficient time for consultation and added that it did not give the public any say over whether or not cuts will be applied.
"It is asking how do people want the misery distributed," Mr Wetzel commented.
See Bird's-eye View, p53