Rural Es for mets
6th April 1985
Page 20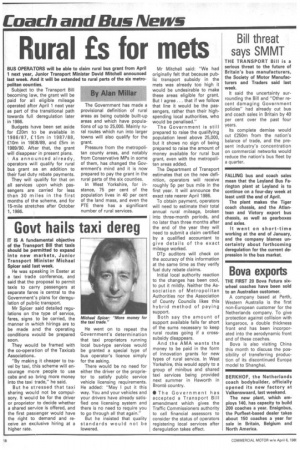 Page 20, 6th April 1985 —
Rural Es for mets
Close
Keywords :
Transport In The United Kingdom
,
United Kingdom
,
Public Transport
,
Energy In The United Kingdom
,
Hydrocarbon Oil Duty
,
Motoring Taxation In The United Kingdom
,
Fuel Duty Rebate
,
Bus Transport In The United Kingdom
,
West Yorkshire Passenger Transport Executive
,
Share Taxi
,
Rural Letter Carrier
,
Bus Deregulation In Great Britain
BUS OPERATORS will be able to claim rural bus grant from April 1 next year, Junior Transport Minister David Mitchell announced last week. And it will be extended to rural parts of the six metropolitan counties.
Subject to the Transport Bill becoming law, the grant will be paid for all eligible mileage operated after April 1 next year as part of the transitional path towards full deregulation later in 1986.
Budgets have been set aside for £20m to be available in 1986/87, £1 5m in 1987/88, E10m in 19E18/89, and E5m in 1989/90. After that, the grant will disappear in present plans.
As announced already, operators will qualify for rural bus grant as an addition to their fuel duty rebate payments.
They will ,qualify for that on all services upon which passengers are carried for less than 30 miles in the first months of the scheme, and for 15-mile stretches after October 1, 1986. The Government has made a provisional definition of rural areas as being outside built-up areas and which have populations of up to 25,000. Mainly rural routes which run into larger towns will also qualify for the grant.
Pressure from the metropolitan county areas, and notably from Conservative MPs in some of them, has changed the Government's mind and it is now prepared to pay the grant in the rural parts of the six counties.
In West Yorkshire, for instance, 75 per cent of the population lives in 40 per cent of the land mass, and even the PTE there has a significant number of rural services. Mr Mitchell said: "We had originally felt that because public transport subsidy in the mets was already too high it would be undesirable to make these areas eligible for grant. But I agree ... that if we follow that line it would be the passengers, rather than their highspending local authorities, who would be penalised."
The Government is still prepared to raise the qualifying population level above 25,000, but it shows no sign of being prepared to raise the amount of money available for rural bus grant, even with the metropolitan areas added.
The Department of Transport estimates that on the new definition, operators will receive roughly 5p per bus mile in the first year. It will announce the exact rate nearer April 1986.
To obtain payment, operators will need to estimate their total annual rural mileage, broken into three-month periods, and no later than three months after the end of the year they will need to submit a claim certified by a qualified accountant to give details of the exact mileage worked.
DTp auditors will check on the accuracy of this information at the same time as they verify fuel duty rebate claims.
Initial local authority reaction to the changes has been cool, to put it mildly. Neither the Association of Metropolitan Authorities nor the Association of County Councils likes this hybrid method of paying support.
Both say the amount of support available falls far short of the sums necessary to keep rural routes going if a crosssubsidy disappears.
And the AMA wants the money to be paid in the form of innovation grants for new types of rural service. In West Yorkshire, this would apply to a group of minibus and shared taxi services being provided next summer in Haworth in Bronte country.
• The Government has accepted a Transport Bill amendment which gives the Traffic Commissioners authority to call financial assessors to consider the status of operators registering local services after deregulation takes effect.