All because of one objection
6th April 1985
Page 16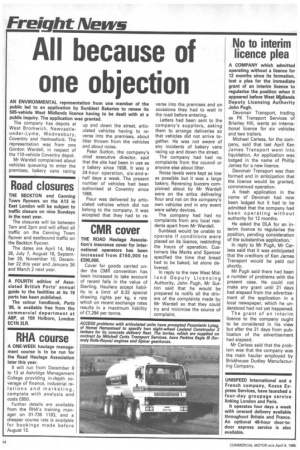 Page 16, 6th April 1985 —
All because of one objection
Close
AN ENVIRONMENTAL representation from one member of the public led to an application by Sunblest Bakeries to renew its 505-vehicle West Midlands licence having to be dealt with at a public inquiry. The application was granted.
The company has depots at West Bromwich, Newcastleunder-Lyme, Wednesbury, Coventry and Hednesford. The representation was from one Gordon Wardell, in respect of the 110-vehicle Coventry depot.
Mr Wardell complained about vehicles queueing to enter the premises, bakery vans racing up and down the street, articulated vehicles having to reverse into the premises, about litter thrown from the vehicles and about noise.
Peter Sutton, the company's chief executive director, said that the site had been in use as a bakery since 1938. It was a 24-hour operation, six-and-ahalf days a week. The present number of vehicles had been authorised at Coventry since 1968.
Flour was delivered by articulated vehicles which did not belong to the company. It was accepted that they had to re
verse into the premises and on occasions they had to wait in the road before entering.
Letters had been sent to the company's suppliers, asking them to arrange deliveries so that vehicles did not arrive together. He was not aware of any incidents of bakery vans racing up and down the street.
The company had had no complaints from the council or anyone else about litter.
Noise levels were kept as low as possible but it was a large bakery. Reversing buzzers complained about by Mr Wardell were on the artics delivering flour and not on the company's own vehicles and in any event were safety devices.
The company had had no complaints from any local residents apart from Mr Wardell.
Sunblest would be unable to operate if conditions were placed on its licence, restricting the hours of operation. Customers like Marks and Spencer specified the time that bread had to be baked, let alone delivered.
In reply to the new West Midland Deputy Licensing Authority, John Pugh, Mr Sutton said that he would be prepared to notify all the drivers of the complaints made by Mr Wardell so that they could try and minimise the source of complaint.