Team to speed China's transport development
6th April 1985
Page 15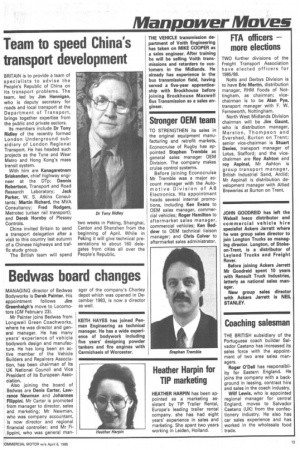 Page 15, 6th April 1985 —
Team to speed China's transport development
Close
BRITAIN is to provide a team of specialists to advise the People's Republic of China on its transport problems. The team, led by Jim Hannigan, who is deputy secretary for roads and local transport at the Department of Transport, brings together expertise from the public and private sectors.
Its members include Dr Tony Ridley of the recently formed London Underground subsidiary of London Regional Transport. He has headed such projects as the Tyne and Wear Metro and Hong Kong's mass transit system.
With him are Kanagaretnam Sriskandan, chief highway engineer at the DTp; Dennis Robertson, Transport and Road Research Laboratory; Jack Parker, W. S. Atkins Consultants; Martin Richard, the MVA Consultancy; Fred Rodgers, Metrotec (urban rail transport); and Derek Hornby of Plessey Controls.
China invited Britain to send a transport delegation after a visit to this country last autumn of a Chinese highways and traffic study group.
The British team will spend two weeks in Peking, Shanghai, Canton and Shenzhen from the beginning of April. While in Peking it will give technical presentations to about 160 delegates from cities all over the People's Republic.