Foreign matter
5th July 1974
Page 34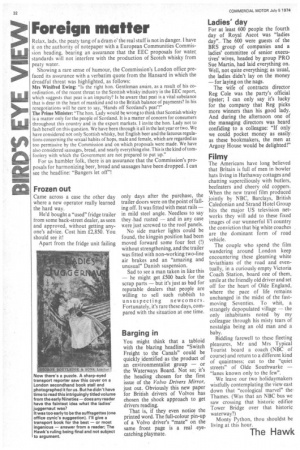 Page 34, 5th July 1974 —
Foreign matter
Close
Relax, lads, the peaty tang of a dram o' the real stuff is not in danger. I have it on the authority of notepaper with a European Communities Commission heading, bearing an assurance that the EEC proposals for water standards will not interfere with the production of Scotch whisky from peaty water.
Showing a rare sense of humour, the Commission's London office prefaced its assurance with a verbatim quote from the Hansard in which the dreadful threat was highlighted, as follows: Mrs Winifred Ewing: "Is the right hon. Gentleman aware, as a result of his coordination, of the recent threat to the Scottish whisky industry in the EEC report, which suggests that peat is an impurity? Is he aware that peat is a vital substance that is dear to the heart of mankind and to the British balance of payments? In his renegotiations will he care to say, 'Hands off Scotland's peat'?" The Prime Minister: "The hon. Lady would be wrong to think that Scottish whisky is a matter only for the people of Scotland. It is a matter of concern for consumers throughout this country and in the export markets. I invite the hon. Lady not to fash herself on this question. We have been through it all in the last year or two. We have considered not only Scottish whisky, but English beer and the fatuous regulations concerning the sexual habits of hops, male and female, which are regarded as too permissive by the Commission and on which proposals were made. We have also considered sausages, bread, and nearly everything else. This is the kind of tomfoolery with which the Government are not prepared to put up."
For us humbler folk, there is an assurance that the Commission's proposals for harmonizing beer, bread and sausages have been dropped. I can see the headline: "Banger's let off"!