TGWU claims credit for fares policy
5th July 1974
Page 27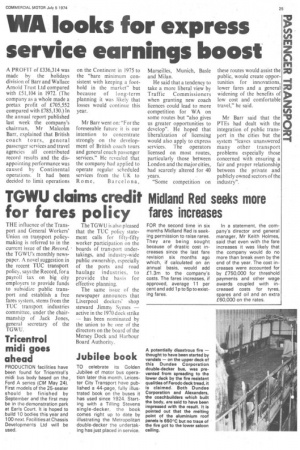 Page 27, 5th July 1974 —
TGWU claims credit for fares policy
Close
Keywords :
Trade Unions In The United Kingdom
,
Unite The Union
,
International Transport Workers' Federation
,
International Union Of Food, Agricultural, Hotel, Restaurant, Catering, Tobacco And Allied Workers' Association
,
Transport And General Workers' Union
,
Workers' Union
,
Labor
THE influence of the Transport and General Workers' Union on transport policymaking is referred to in the current issue of the Record, the TGWU's monthly newspaper. A novel suggestion in the recent TUC transport policy, says the Record, for a payroll tax on big city employers to provide funds to subsidize public transport and establish a free fares system, stems from the TUC transport industries committee, under the chairmanship of Jack Jones, general secretary of the TGWU. The TGWU is also pleased that the TUC policy statement calls for fifty-fifty worker participation on the boards of transport undertakings, and industry-wide public ownership, especially of the ports and road haulage industries, to provide the basis for effective planning.
The same issue of the newspaper announces that Liverpool dockers' shop steward Jimmy Svmes — active in the 1970 dock strike --has been nominated by the union to be one of the directors on the board of the Mersey Dock and Harbour Board Authority.