Nato hauliers licence curtailed
5th July 1974
Page 26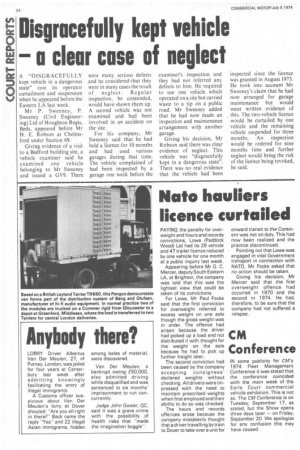 Page 26, 5th July 1974 —
Nato hauliers licence curtailed
Close
PAYING the penalty for overweight and hours and records convictions, Lowe (Paddock Wood) Ltd had its 29 vehicle and 47 trailer licence reduced by one vehicle for one month at a public inquiry last week.
Appearing before Mr G. C. Mercer, deputy South Eastern LA, at Brighton, the company was told that this was the lightest view that could be taken of its convictions.
For Lowe, Mr Paul Focke said that the first conviction for overweight referred to excess weight on one axle though the gross weight was in order. The offence had arisen because the driver had picked up a load and not distributed it with thought for the weight on the axle because he had to pick up further freight later.
The second conviction had been caused by the company accepting consignees' declared weights without checking. All drivers were impressed with the need to maintain prescribed weights when first employed and their ability to do so was checked.
The hours and records offences arose because the company mistakenly thought that a driver travelling by train to Dover to take over a unit for onward transit to the Continent was not on duty. This had now been realized and the practice discontinued.
Pointing out that Lowe was engaged in vital Government transport in connection with NATO, Mr Focke asked that no action should be taken.
Giving his decision, Mr Mercer said that the first overweight offence had occurred in 1970 " and the second in 1974. He had, therefore, to be sure that the .company had not suffered a relapse.