Haulier's delivery underweight but ballast firm also liable
5th July 1974
Page 24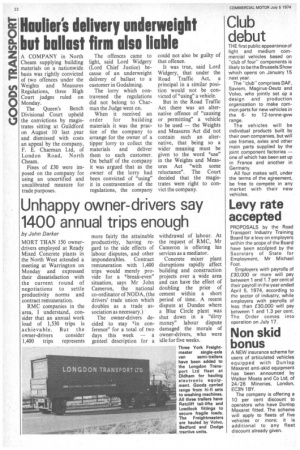 Page 24, 5th July 1974 —
Haulier's delivery underweight but ballast firm also liable
Close
A COMPANY in North Cheam supplying building materials on a nationwide basis was rightly convicted of two offences under the Weights and Measures Regulations, three High Court judges ruled on Monday.
The Queen's Bench Divisional Court upheld the convictions by magistrates sitting at Guildford on August 10 last year and dismissed with costs an appeal by the company, F. E. Charman Ltd, of London Road, North Cheam.
Fines of £30 were imposed on the company for using an uncertified and uncalibrated measure for trade purposes. The offences came to light, said Lord Widgery (Lord Chief Justice) because of an underweight delivery of ballast to a customer in Godalming.
The lorry which contravened the regulations did not belong to Charman the Judge went on.
When it received an order for building materials it was the practice of the company to arrange for the owner of a tipper lorry to collect the materials and deliver them to each customer. On behalf of the company it was argued that as the owner of the lorry had been convicted of "using" it in contravention of the regulations, the company could not also be guilty of that offence.
It was true, said Lord Widgery, that under the Road Traffic Act, a principal in a similar position would not be convicted of "using" a vehicle.
But in the Road Traffic Act there was an alternative offence of "causing or permitting" a vehicle to be used — the Weights and Measures Act did not contain such an alternative, that being so a wider meaning must be given to the word "use" in the Weights and Measures Act "with some reluctance". The Court decided that the magistrates were right to convict the company.