Heaton's re-examine compensation claim against TGWU
5th July 1974
Page 23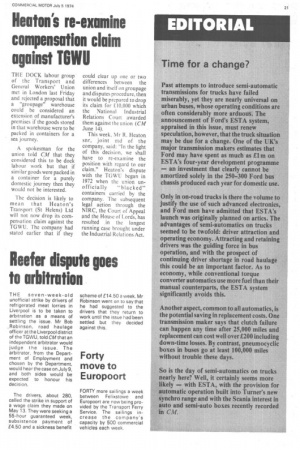 Page 23, 5th July 1974 —
Heaton's re-examine compensation claim against TGWU
Close
THE DOCK labour group of the Transport and General Workers' Union met in London last Friday and rejected a proposal that a "groupage" warehouse could be considered an extension of manufacturer's premises if the goods stored in that warehouse were to be packed in containers for a sea journey.
A spokesman for the union told CM that they considered this to be dock labour work but that if similar goods were packed in a container for a purely domestic journey then they would not be interested.
The decision is likely to mean that Heaton's Transport (St Helens) Ltd will not now drop its compensation claim against the TGWU. The company had stated earlier that if they could clear up one or two differences between the union and itself on groupage and disputes procedure, then it would be prepared to drop its claim for C10,000 which the National Industrial Relations Court awarded them against the union (CM June 14).
This week, Mr R. Heaton snr, joint md of the company, said: "In the light of this decision, we shall have to re-examine the position with regard to our claim." Heaton's dispute with the TGWU began in 1972 when the union un officially "blacked" containers carried by the company. The subsequent legal action through the NIRC, the Court of Appeal and the House of I.ords, has resulted in the longest running case brought under the Industrial Relations Act.