Confusion over Guildhall record books but they're all right:
5th July 1974
Page 22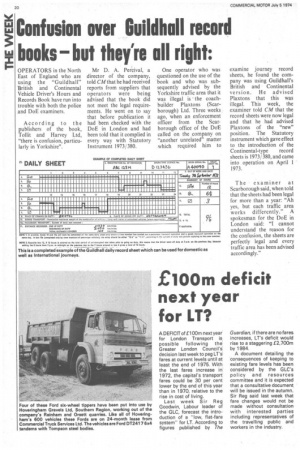 Page 22, 5th July 1974 —
Confusion over Guildhall record books but they're all right:
Close
OPERATORS in the North East of England who are using the "Guildhall" British and Continental Vehicle Driver's Hours and Records Book have run into trouble with both the police and DoE examiners.
According to the publishers of the book, Tollit and Harvey Ltd, "there is confusion, particularly in Yorkshire". Mr D. A. Percival, a director of the company, told CM that he had received reports from suppliers that operators were being advised that the book did not meet the legal requirements. He went on to say that before publication it had been checked with the DoE in London and had been told that it complied in every way with Statutory Instrument 1973/ 380. One operator who was questioned on the use of the book and who was subsequently advised by the Yorkshire traffic area that it was illegal is • the coachbuilder Plaxtons (Scarborough) Ltd. Three weeks ago, when an enforcement officer from the Scarborough office of the Do'E called on the company on "another unrelated" matter which required him to examine journey record sheets, he found the company was using Guildhall's British and Continental version. He advised Plaxtons that this was illegal. This week, the examiner told CM that the record sheets were now legal and that he had advised Plaxtons of the "new" position. The Statutory instrument which gave effect to the introduction of the Continental-type record sheets is 1973/ 380, and came into operation on April 1 1973.
The examiner at Scarborough said, when told that the sheets had been legal for more than a year: "Ah yes, but each traffic area works differently." A spokesman for the DoE in London said: "I cannot understand the reason for the confusion, the sheets are perfectly legal and every traffic area has been advised accordingly."