Showroom for Photographic Equipment
4th April 1952
Page 59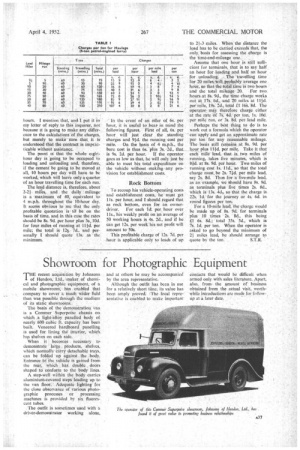 Page 59, 4th April 1952 —
Showroom for Photographic Equipment
Close
THE recent acquisition by Johasons of Hendon,Ltd" maker of chemical and photographic equipment,of a mobile showroom; . has enabled that company to covet -muelt Wider 'field than watt; possible thrOugh•the medium of its static. showrooms. .
The basis of the demonstration an is a Commer.' Superpciise chassis, on which a light-alloy panelled body of nearly 600 cubic ft. capacity has' been built. Veneered hardboard panelling is' used for lining' the' interior, which has shelves on each side.
When it , becomes . necessary to demonstrate large products, shelves, which normally carry detachable trays, can be folded up against the body. Entrance AO the vehicle is gained from the rear, which has' double doors shaped ,to conform to thc body lines.
A step-well within the body carries aluminium-covered steps leading'up' o the van floor. Adequate lighting for the close observance of variou8 photographic processes or processing machines is provided by six fluorescent tubes.
The outfit is sometimes used with a driver-demonstrator working alone, and at others he may, be accompanied by the area rePresentative. • .
Although the outfit has been in Use for a relatively, short tiine; its value has been amply prove& -1-he, local retire-sentative is enabledto make important' contacts that would be difficult when armed only with sales literature. Apart, also, from the amount or business obtained from the actual visit, worth while introductions arc in for followup at 'C later date.