Modern Pits Speed Up Maintenance
4th April 1952
Page 48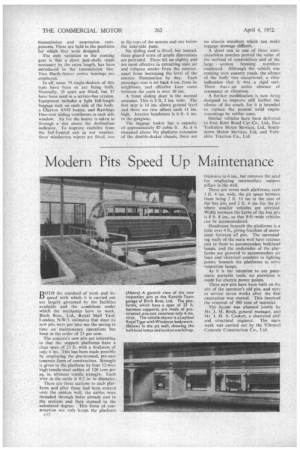 Page 48, 4th April 1952 —
Modern Pits Speed Up Maintenance
Close
BOTH the standard of work and th: speed with which it is carried out are largely governed by the facilities available and the conditions under which the mechanics have to Work. Birch, Bros., Ltd., • Royal Mail Yard, London, N.W.5, estimates that since its . new pits were put into use the saving in time on' maintenance operations has been in the order of 25 per cent.
The concern's new pits are interesting in that the support platforms have a clear•span of 23 ft. With a thickness of . only 6 ins. This has been made possible by employing the pre-stressed, pre-cast concrete form of construction. Strength is given to the platform by four 12-wire high-tensile-steel cables of 120 tons per sq. in. ultimate tensile Strength. Each ,wire in, the cable is 0.2 in. in diameter.
There 'are three sections to each platform and after these had been erected over the .sunken well, the Cables were threaded through holes already cast in , the sections and then stressed to the .eafeulated degree. This form of. construction not only keeps the platform thickness lo 6 ins" but removes the need for employing intermediate support pillars in the well.
There are seven such platforms, each 3 ft. 4 ins. wide, the pit space between them being 2 ft. 11 ins in the ease of the bus Pits and 2 ft. 4 ins. for the pit where smaller vehicles 'are serviced. Width between the kerbs of the bus pits is 8 ft. 8 ins., so that 8-ft.-wide vehicles can he accommodated. •
.Headroom beneath the platforms is a little over 4 ft., giving freedom of movement between all pits. The surrotincling walls of the main well have' recesses -cast in (hem to accommodate bulkhead lamps, and the undersides of the platforms are grooved to accommodate air
lines a:nd electrical conduit S lighting points beneath the platforms to serve inspection lamps.
As .it is the intention to use pneumatic portable tools, no' provision is made for electric power points.
These new pits have been built on the site Of the operator's old pits, and were in service seven weeks after the first excavation was started. This involved the removal of 300 tons of material.. 'the iayom was planned jointly by mr, .1. M.,Bineh, general manager, and Mr. J. H. A. crokett, a chartered civil and structural engineer. The main work was carried out by the Vibrated_ Concrete Construction Co., Ltd.
•