A Vehicle-fitted Timber Hoist
4th April 1952
Page 46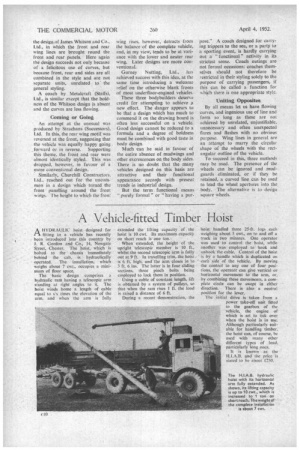 Page 46, 4th April 1952 —
A Vehicle-fitted Timber Hoist
Close
AHYDRAULIC hoist designed for fitting to a vehicle has recently been introduced into this country by J. R. Gordon and Co., 14, Newgate Street, Chester. The hoist, which is bolted to the chassis immediately behind the cab, is . hydraulically operated. . The installation; which weighs about 7 cwt., occupies a minimum of floor space.
The basic design comprises a hydraulic rant having a telescopic arm standing at right angles to it. The hoist winds home a length of cable equal to s'x times the elevation of the arm, and when the arm is fully extended the • lifting capacity. of . the hoist is 10 cwt. Its maximum .capacifY • on short reach is one ton. . .
When extended, the height of the upright telescopic member is 10 ft., whilst the second telescopic arm is fully out at 9 ft. In travelling trim,-the is 6 ft. high", and .the arm closes in 'to 3 ft. 6 ins. The latter is in four sliding sections, three pinch bolts being employed to lock them in position.
Using a cable of constant length, lift is obtained by a system of pulleys, so that when the ram rises 1 ft. the load is raised a distance of 6 ft.
During a recent demonstration, the
hoist. handled three 25-ft. logs each Weighing about 5 cwt., on to and off a truck in two minutes. One operator Was used to Control the hoist, while another was employed to hook and
• unhook the cable. Control of the hoist is by a handle which is duplicated, on each side of the vehicle. By moving the control to any one of four positions, the operator can give vertical or horizontal movement to the arm, or, by combining these movements, a complete circle can be swept in either direction. There is also a neutral position for the lever.
'I he initial drive is taken from a power take-off unit fitted to the gearbox of the vehicle, the engine of which is set to tick over when the hoist is in use. Although particularly suitable for handling timber, the hoist can, of course, be used with many other different types of load, particularly long ones.
It is known as the 11.1.A:B. and the price is stated to he about f250.