Stolen Load : Charge Could Not be Made
4th April 1952
Page 38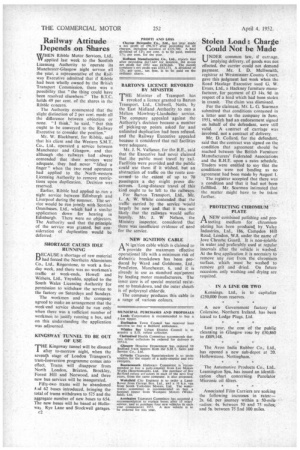 Page 38, 4th April 1952 —
Stolen Load : Charge Could Not be Made
Close
UNDER common law, if carriage, implying delivery, of goods was not effected, the carrier could not demand payment. Mr. 1. D. Mcilwraith, registrar at Westminster County Court, gave this judgment last week when the Road Haulage Executive sued G. W. Evans, Ltd., a Hackney furniture manufacturer, for payment of £3 14s. 9d in respect of a load which had been stolen in transit. The claim was dismissed.
For the claimant, Mr. L. G. Scarman submitted that conditions contained in a letter sent to the company in June, 1951, which had an endorsement signed on behalf of the defendant, were still valid. A contract of carriage was involved, not a contract of delivery.
Mr. D. Collard, for the defendant, said that the contract was signed on the condition that agreement should he reached between the British Furniture Manufacturers' Federated Associations and the R.H.E. upon a rates schedule. Traders were entitled to say that the conditions were not binding as no agreement had been made by August 1.
The registrar accepted that there was a condition and that it had not been fulfilled. Mr. Scarman intimated that the matter might have to be taken further.
PROTECTING CHROMIUM PLATE ,
A NEW combined polishing and pro tecting medium for chromium plating has been produced by Valay Industries, Ltd., 186, Carnpden Hill Road, London, W.8, under the name of Jove Chrome Guard. It is non-soluble in water and preferably used at regular intervals after the vehicle is washed. At the first application it is necessary to remove any rust from the chromium surface, which must be washed to remove grit and dried. On future occasions only washing and drying are required.
IN A LINE OR TWO Kennings, Ltd., is to capitalize £250,000 from reserves.
A new Government factory at Coleraine, Northern Ireland, has been leased to Lodge Plugs, Ltd.
Last year, the cost of the public cleansing in Glasgow rose by £50,860 to £889,148.
The Avon India Rubber Co., Ltd., has opened a new sub-depot at 20, Hollowstone, Nottingham.
The Automotive Products Co., Ltd., Leamington Spa, has issued an identification chart concerning Purolator Micronic oil filters.
Associated Film Carriers are seeking the following increases in rates2s. 6d. per journey within a 50-mile radius; 4s. between 50 and 75 miles; and 5s. between 75 I.ncl 100 miles.