Mr. Deakin Supports Operators
4th April 1952
Page 34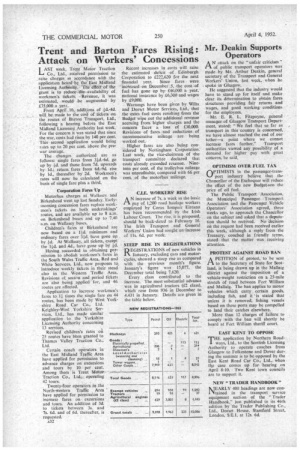 Page 34, 4th April 1952 —
Mr. Deakin Supports Operators
Close
AN attack on the "unfair criticism of public transport operators was made by Mr. Arthur Deakin, general secretary of the Transport and General 'Workers' Union, last week. when he spoke in Glasgow.
He suggested that the industry would have to stand up for itself and snake clear its determination to obtain fares structures providing fair returns and wages; 'and good working conditions
for the employees. . • Mr. E. R. L. Fitzpayne, general manager of Glasgow Transport Department, stated: "We feel that so far as transport in this country is concerned, we have almost reached the end of our tether—a point where we cannot increase fares further." Transpsort authorities viewed any possibility of a demand for higher pay with great concern, he said.
OPTIMISM OVER FUEL TAX rt.PTIMISTS in the passenger-trans'Li port industry believe that the Chancellor of the Exchequer will reduce the effect of the new Budgetson the price of oil fuel.
The Public Transport Association, the Municipal Passenger 'Transport Association and the Passenger Vehicle Operators' Association agreed, three weeks ago, to approach the Chancellor on the subject and asked that a -deputation should be received. No decision on the request had been received earlier this week, although a reply from the Treasury, couched in friendly terms, stated that the matter was receiving attention.
PROTEST AGAINST ROAD "BAN A PETITION of protest, to be sent t-1 to the Secretary of State for Scotland, is being drawn up in the Mallaig district against the imposition of a vehicle-weight restriction on a 25-mile stretch of road between Fort William and Mallaig. The ban applies to motor vehicles which carry certain goods, including fish, and it 'is stated that unless it is removed, fishing vessels based on these ports may be compelled to land their catches elsewhere.
More than 12 charges of failure to comply with the ban will shortly be heard at Fort William sheriff court.
EAST • KENT TO OPPOSE THE application by Northern Road1 Ways, Ltd., to the Scottish Licensing Authority to operate coaches from Glasgow to Folkestone and Dover during the summer is to be opposed by the East Kent Road Car CO., Ltd., when the case comes up for hearing on April 8-10. Two Kent town councils are to support it.
NEW "TRADER HANDBOOK"
NEARLY 400 headings are now contained in the transport service equipment section of the •" Trader Handbook," just published in its 46th edition by the Trader Publishing Co., Ltd., Dorset House, Stamford Street, London, S.E.1, at 12s. 6d.