News and Comment.
3rd January 1907
Page 13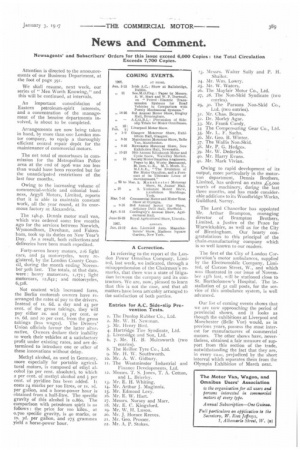 Page 14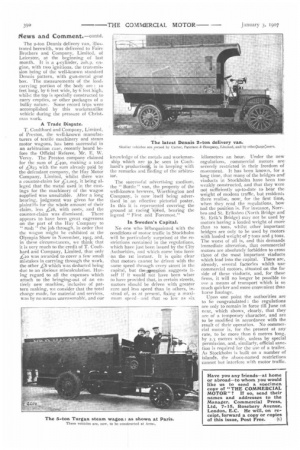 Page 15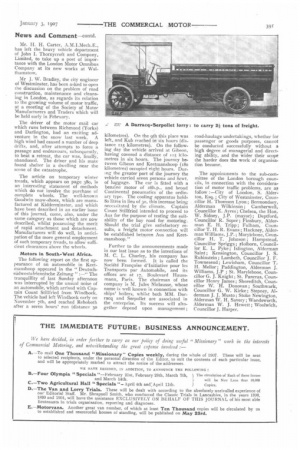 Page 13, 3rd January 1907 —
News and Comment.
Close
Subscribers' Orders for this issue exceed 6,000 Copies : the Total Circulation Exceeds 7,700 Copies.
Attention is directed to the announcements of our Business Department, at the foot of page 391.
We shall resume, next week, our series of "Men Worth Knowing," and this will be continued, at intervals.
An important consolidation of Eastern petroleum-spirit interests, and a concentration of the management of the benzine departments Involved, is about to be completed.
Arrangements are now being taken in hand, by more than one London motor company, to equip a thoroughly efficient central repair depot for the maintenance of commercial motors.
The net total of motorbuses in commission for the Metropolitan Police area at the end of i906 was 200 less than would have been recorded but for the unanticipated restrictions of the last four months.
Owing to the increasing volume of commercial-vehicle and colonial business, Argyll Motors, limited, reports that it is able to maintain constant work, all the year round, at its enormous factory at Alexandria.
The Lth.p. Dennis motor mail van, which was ordered some few months ago for the services between Norwich, Wymondham, Dereham, and Fakenham, took up its duties on New Year's Day. As a result, both collections and deliveries have been much expedited.
Forty-seven heavy motors, 2(6 light cars, and 54 motorcycles, were registered, by the London County Council, during the month ending November 3oth last. The totals, at that date, were : heavy motorcars, 1,171; light motorcars, 12,842; and motorcycles, 6,528.
Not content with increased fares, the Berlin inotorcab owners have rearranged the rates of pay to the drivers. Instead of is. 6d. a day and 25 per cent, of the gross takings, they will pay either 2s. and 15 per cent. or is. 6d. and zo per cent. from the gross takings (less wages). The Drivers' Union officials favour the latter alt-ernative. Owners declare their inability to work their vehicles at a satisfactory profit under existing rates, and are determined to introduce one or other of these innovations without delay.
Methyl alcohol, as used in Germany, more especially for portable agricultural motors, is composed of ethyl alcohol (90 per cent, absolute), to which 2 per cent, of methyl alcohol and it, per cent. of pyridine has been added. it costs 24 marks per too litres, or Is. id. per gallon, and a horse-power hour is obtained from a half-litre. The specific gravity of this alcohol is o.86o. The comparison with petroleum spirit is as follows : the price for soo kilos., at 43.700 specific gravity, is 40 marks, or is. 3d. per gallon, and 275 grammes yield a horse-power hour. A Correction.
In referring to the report of the London Power Omnibus Company, Limited, last week, we indicated, through a misapprehension of the Chairman's remarks, that there was a state of litigation between the company and its contractors. We are, now, pleased to learn that this is not the case, and that all matters have been am:cably arranged to the satisfaction of both parties.
Entries for A.C. Side-slip Prevention Tests.
1. The Dunlop Rubber Co., Ltd.
2. Mr. W. H. Newman.
3. Mr. Henry Bird. 4. Hartridge Tire Syndicate, Ltd.
5. Liversidge and Son, Ltd.
6, 7. Mr. H. B. Molesworth (two
entries). S. The Reilloc Tyre Co., Ltd.
9. Mr. H. W. Southworth.
so. Mr. A. W. Gidbury.
is. The Westminster Industrial and Finance Developments, Ltd.
12. Messrs. '1'. S. Jones, T. A. Cotton, and L. Brierley.
13. Mr. E. H. Whiting. if Mr. Arthur J. Maginnis.
15. Mr. Edmond Levy.
16. Mr. E. W. Hart.
17. Messrs. Nursey and Arlarr.
18. Mr. E. C. Kingsford.
19. Mr. W. H. Luson.
zo. Mr. J. Horace Reeves.
21. Mr. Geo. Prosser.
22. Mr. A. P. Stokes. 73. Messrs. Walter Sully and P. H. Shailer.
24. Mr. Win. Lowry.
25. Mr. W. Waters. 20. The Mayfair Motur Co., Ltd. 27, 28. The Non-Skid Syndicate (two entries).
29, 30. The Parsons Non-Skid Co., Ltd. (two entries).
Mr. Chas. Beaver,.
Dr. Morlejr Agar.
Mr. Frank Candy.
The Compensating Gear Co., Ltd. Mr. 1.. F. Sachs.
Mr. Geo. B. Winter.
The Wallis Non-Skid.
Mr. P. G. Hedges.
Mr. W. Dederich.
Mr. Harry Evans.
Mr. Mark Vivian.
3334 35. 3037. 3839. 40
Owing to rapid development of its output, more particularly in the motorvan department, Dennis Brothers, Limited, has ordered an extra £5,000 worth of machinery, during the last three months, and has made considerable additions to its Woodbridge Works, Guildford, Surrey.
The Lord Chancellor has appointed Mr. Arthur Brampton, managing director of Brampton Brothers, I.imited, a Justice of the Peace for Warwickshire, as well as for the City of Birmingham. Our hearty congratulations to this principal of the chain-manufacturing company which is so well known to our readers.
The first of the City of London Corporation's motor ambulances, supplied by the Electromobile Company, Limited, of Curzon Street, W., and which was illustrated in our issue of November 15th last, will be stationed close to St. Bartholomew's Hospital. The installation of 52 call posts, for the service of this ambulance system, is well advanced.
Our list of coming events shows that we are now approaching the period of provincial shows, and it looks as though the exhibitions at Liverpool and Manchester (Belle Vue) would, as in previous years, possess the most interest for manufacturers of commercial motors. The other shows have, nevertheless, obtained a fair measure of support from this section of the trade, notwithstanding the fact that they are, in every case, prejudiced by the short interval which separates them from the Olympia Exhibition of March next.
The 2-ton Dennis delivery van, illustrated herewith, was delivered to Faire Brothers and. Company, Limited, of Leicester, at the beginning of last month. It is a 4-cylinder, 2oh.p. engine, with two ignitions, the transmission being of the well-known standard Dennis pattern, with gun-metal gear box. The measurements of the loadcarrying portion of the body are : to feet -long, by 6 feet wide, by 6 feet high, whilst the top is specially constructed to carry empties, or other packages of a bulky nature. Some record trips were accomplished by this workmanlike vehicle during the pressure of Christ, Inas work.
A Trade Dispute.
T. Coulthard and Company, Limited, of Preston, the well-known manufacturers of textile machinery and steam motor wagons, has been successful in an arbitration case, recently heard before the Official • Referee, -Mr. E. W. Verey. The Preston company claimed for the sum of £49o, making a total of £823 with the sum already paid by the defendant company, the Hay Motor Company, Limited, whilst there was a counter-claim for £1,005, it being alleged that the metal used in the castings for the machinery of the wagon supplied was unsuitable. After a long hearing, judgment was given for the plaintiffs for the whole amount of their claim, less £28, with costs, and the counter-claim was dismissed. There appears to have been great eagerness on the part of the Hay Company to `` rush " the job through, in order that the wagon might be exhibited at the Olympia Show in November, 1905, and, in these circumstances, we think that it is very much to the credit of T. Coulthard and Company, Limited, that only £20 was awarded to cover a few small mistakes in carrying through the work, the other £8 which was deducted being due to an obvious miscalculation. Haying regard to all the expenses which attach to the bringing-out of an entirely new machine, inclusive of pattern making, we consider that the total charge made, for material and services, was by no means unreasonable, and our knowledge of the metals and workmanship which are ID be seen in. Coulthard's productiolit, is in keeping with the remarks and nding of the arbitrator.
The successful advertising medium, the " Bottle " van, the property of the well-known brewers, 'Worthington and Company, is now itself being advertised in an effective pictorial poster. In this it is represented covering the ground at racint "sited, bearing the legend " First and Foremost."
In Sweden's Capital.
No one who isZacquainted with the conditions of motor traffic in Stockholm will be particularly surprised at the restrictions contained in the regulations, which have just been issued by the City Authorities, and which came into force on the 1st instant. It is quite clear that motors cannot be driven with the same speed through every street in the capital, but theyaues,tion suggests itself if it would not have been wiser to have provided that, in certain streets, motors should be driven with greater care and less speed than in others, instead of, as at present, fixing a maximum speed-and that so low as six kilometres an hour. Under the new regulations, commercial motors are. severely restricted in their freedom of movement. It has been known, for a long time, that many of the bridges and' viaducts in Stockholm have been toes weakly constructed, and that they were not sufficiently up-to-date to bear the. weight of modern traffic, but residents there realise, now, for the first time,. when they read the regulations, how bad the position is. For instance, Norr... Iwo and St. Erikshro (North Bridge and St. Erik's Bridge) may not be used by motors having a loaded weight of more than to tons, whilst other important bridges are only to be used by motors with loaded weight of 7 tons and 5 tons. The worst of all is, and this demands immediate alteration, that commercial' motors are absolutely forbidden to cross three of the most important viaducts, which lead into the capital. There arc, already, several factories veliih ruse. commercial motors, situated on the far side of these viaducts, and, for these firms, it will no longer be possible toore a means of transport which is so much quicker and more convenient than horse haulage.
Upon one point the authorities are to he congratulated : the regulations are only to remain in force till June 1st next, which shows, clearly, that they are of a temporary character, and are to be modified in accordance with the result of their operation. No commercial motor is, for the present at any. rate, to be more than 6 metres long, by 2.3 metres wide, unless by special permission, and, similarly, official sanction is required for the use of a trailer. As Stockholm is built on a number of islands, the atove-named restrictions cannot but interfere with motor traffic. Mr. H. H. Carter, A.M.I.Mech.E., has left the heavy vehicle department of John I. Thornycroft and Company, Limited, to take up a post of importance with the London Motor Omnibus Company at its new works at Welthamstow.
Mr J. W. Bradley, the city engineer of Westminster, has been asked to open the discussion on the problem of road construction, maintenance and cleansing in London, as regards its relation to the growing volume of motor traffic, at a meeting of the Society of Motor Manufacturers and Traders which will be held early in February.
The driver of the motor mail car which runs between Richmond (Yorks) and Darlington, had an exciting adventure in the snow last week. A high wind had caused a number of deep drifts, and, after attempts to force a passage and endeavours, subsequently, to beat a retreat, the car was, finally, abandoned. The driver and his mate found shelter in a dwelling near the scene of the catastrophe.
The article on temporary winter treads, which appears on page 38o, is an interesting statement of methods which do not involve the purchase of complete wheels. The well-known Goodwin snow-shoes, which are manufactured at Kidderminster, and which have been described in an earlier issue of this journal, come, also, under the same category as those which are now described, whilst possessing the merit of rapid attachment and detachment. Manufacturers will do well, in anticipation of the more general employment of such temporary treads, to allow sufficient clearances above the wheels.
Motors in South-West Africa.
The following report on the first appearance of an automobile in Keetmanshoop appeared in the " Deutschsiidwestafricanische Zeitung " :-" The tranquillity of last Sunday afternoon was Interrupted by the unsual noise of an automobile, which arrived with Captain Count Stillfried from Windhoek. The vehicle had left Windhoek early on November 7th, and reached Rehoboth after a seven hours' run (distance 30
kilometres). On the 9th this place was left,. and Kub reached in six hours (distance iis kilometres). On the following day the vehicle arrived at Gibeon, having covered a distance of 115 kilometres in six hours. The journey between Gibeon and Keetmanshoop (18o kilometres) occupied eight hours. During the greater part of the journey the vehicle carried seven persons and 8cwt. of luggage. The car is fitted with a benzine motor of 28h.p., and broad Continental pneumatics of the ordinary type. The cooling apparatus holds So litres in lieu of 3o, this increase being necessitated by the climate. Captain Count Stillfried intended to proceed to Aus for the purpose of testing the suitability of the bay road for motoring. Should the trial give satisfactory results, a freight motor connection will be established between Aus and Keetrnanshoop."
Further to the announcements made in our last issue as to the intentions of M. C. L. Charley, his company has now been formed. It is called the Societe Francaise d'Initiative pour les Transports par Automobile, and its offices are at 17, Boulevard Naussmann, Paris. The chairman of the company is M. Jules Niclausse, whose name is well known in connection with ships' boilers, whilst both MM. Darracq and Serpollet are associated in the enterprise. Its success will altogether depend upon management ;
road-haulage undertakings, whether for passenger or goods purposes, cannot be conducted successfully without a high degree of managerial and directing ability, and the wider their scope the harder does the work of organisadon become.
The appointments to the sub-committee of the London borough councils, in connection with the consideration of motor traffic problems, are as :-City of London, S. Alderton, Esq. ; City of Westminster, Councillor H. Thomson Lyon ; Bermondsey, Alderman Wilkinson ; Camberwell,. Councillor E. Ayres"; Chelsea, the Hon. W. Sidney, J.P. (mayor); Deptford, Councillor R. Soper ; Finsbury, Alderman E. H. Tripp ; Fulham, Councillor T. H. R. Evans; Hackney, Alderman Williams, J.P.; Marylcbone, Councillor H. T. Johnson ; Hampstead, Councillor Spriggs; Holborn, Councillor E. L. Pyke;* Islington, Alderman Saint ; Kensington, Councillor J. S.. Rubinstein ; Lambeth, Councillor J. F. Townesend; Lewisham, Councillor T. H. Mellor; Paddington, Alderman J. Williams, J.P ; St. Marylebone, Councillor G. J. Knight ; St. Pancras, Councillor Henry James; Shareditch, Councillor W. H. Donovan ; Southwark, Councillor G. W. Kirke; Stepney, Al-, derman J. J. Musto ; Stoke Newington, Alderman W. H. Savery ; Wandsworth, Alderman W. J. Hewett ; Woolwich, Councillor J. Harper.
Tags
People
:
Morlejr Agar
,
J. F. Townesend
,
E. H. Whiting
,
E. C. Kingsford
,
A. W. Gidbury
,
Beaver
,
Edmond Levy
,
Fulham
,
G. W. Kirke
,
Henry Bird
,
S. Alderton
,
H. T. Johnson
,
J. Horace Reeves
,
E. W. Hart
,
W. Dederich
,
J. Harper
,
W. H. Donovan
,
W. Waters
,
R. Soper
,
W. H. Luson
,
T. H. Mellor
,
Arthur J. Maginnis
,
Kensington
,
Henry James
,
Hampstead
,
Arthur Brampton
,
M. Jules Niclausse
,
H. H. Carter
,
Belle Vue
,
E. Ayres
,
H. Thomson Lyon
,
Chas
,
J. W. Bradley
,
John I. Thornycroft
,
H. B. Molesworth
,
E. W. Verey
,
H. W. Southworth
,
E. L. Pyke
,
W. H. Newman
,
A. P. Stokes
,
Harry Evans
,
G. J. Knight
,
Mark Vivian
Locations
:
Fakenham
,
Wymondham
,
Preston
,
Leicester
,
Birmingham
,
Liverpool
,
Westminster
,
Paris
,
Stockholm
,
Manchester
,
Berlin
,
Norwich
,
Alexandria
,
Windhoek
,
London
,
Dereham
,
Surrey