OPINIONS
31st January 1936
Page 50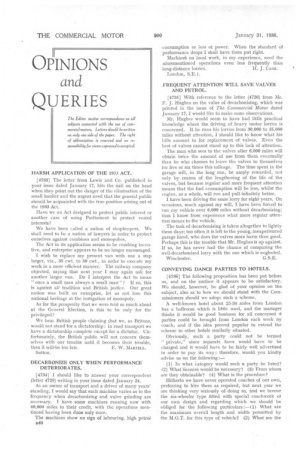 Page 51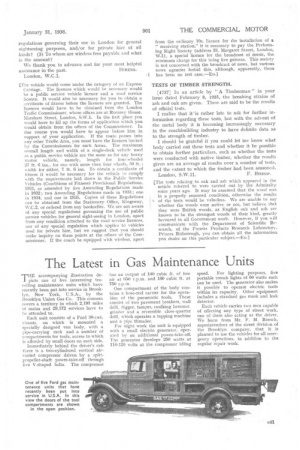 Page 50, 31st January 1936 —
OPINIONS
Close
and
QUERIES
HARSH APPLICATION OF THE 1933 ACT.
[4733] The letter from Lewis and Co. published in your issue dated January 17, hits the nail on the head when they point out the danger of the elimination of the small haulier and the urgent need that the general public should be acquainted with the true position arising out of the 1933 Act.
Have we an Act designed to protect public interest or another case of using Parliament to protect vested interests?
We have been called a nation of shopkeepers. We shall need to be a nation of lawyers in order to protect ourselves against combines and monopolies.
The Act in its application seems to be crushing incentive, and enterprise appears to be no longer encouraged.
I wish to replace my present van with one a step larger, viz., 35 cwt. to 50 cwt., in order to execute my work in a more efficient manner. The railway company objected, saying that next year I may again ask for another larger van. Do I interpret the Act to mean "once a small man always a small man " ? If so, this is against all tradition and British justice. Our great nation was built on enterprise, let us not lose this national heritage at the instigation of monopoly.
As for the prosperity that we were told so much about at the General Election, is this to be only for the privileged?
We heal British people claiming that we, as Britons, would not stand for a dictatorship : in road transport we have a dictatorship complete except for a dictator. Unfortunately, the British public will not concern themselves with our trouble until it becomes their trouble,
then it will...be too late. E. W. MARTELL. Sutton.
DECARBONIZE ONLY WHEN PERFORMANCE DETERIORATES.
[4734] I should like to answer your correspondent (letter 4729) writing in your issue dated January 24.
As an owner of transport and a driver of many years' standing, I would say that each machine varies as to the frequency when decarbonizing and valve grinding are necessary. I have some machines running now with 40,000 miles to their credit, with the operations mentioned having been done only once.
The machines show no sign of labouring, high petrol B40 consumption or loss of power. When the standard of performance drops I shall have them put right. Machine on local work, in my experience, need the aforementioned operations even less frequently than long-distance lorries. H. J. CANE. London, S.E.1.
FREQUENT ATTENTION WILL SAVE VALVES AND PETROL.
[4735] With reference to the letter (4726) from Mr. F. J. Hughes on the value of decarbonizing, which was printed in the issue of The Commercial Motor dated January 17, I would like to make some observations.
Mr. Hughes would seem to have had little practical knowledge where the driving of heavy motor lorries is concerned. If he runs his lorries from 30,000 to 35,000 miles without attention, I should like to know what his bills amount to for replacement of valves. Even the best of valves cannot stand up to this lack of attention, The man who sees to the valves after 6,000 miles will obtain twice the amount of use from them eventually than he who chooses to leave the valves to themselves for five or six times this mileage. The time spent in the garage will, in the long run, be amply rewarded, not only by reason of the lengthening of the life of the valves, but because regular and more frequent attention means that the fuel consumption will be less, whilst the engine, as a whole, will run and pull infinitely better.
I have been driving the same lorry for eight years. On occasions, much against my will, I have been forced to run my vehicle over 6,000 miles without decarbonizing; thus I know from experience what more regular attention means to the vehicle.
The task of decarbonizing is taken altogether to lightly these days; too often it is left to the young, inexperienced garage hand, who does the valves more harm than good. Perhaps this is the trouble that Mr. Hughes is up against. If so, he has never had the chance of comparing the well-decarbonized lorry with the one which is neglected.
Winchester. G. S.E.
CONVEYING DANCE PARTIES TO HOTELS.
[4736] The following proposition has been put before us, and on the surface it appears to be satisfactory.
We should, however, be glad of your opinion, on the subject, also as to how we should stand with the Commissioners should we adopt such a scheme.
A well-known hotel about 25-30 _miles from London has a ballroom which is little used, and the manager
thinks it would be good business for all concerned it parties could be brought from London each week by coach, and if the idea proved popular to extend the scheme to other hotels similarly situated.
Obviously, such a party could not be termed " private," since separate fares would have to be charged and it would -have to be fairly well advertised in order to pay its way ; therefore, would you kindly advise us on the following :—
(1) In what Lategory would such a party be listed? (2) What licences would be necessary? (3) From whom are they obtainable? (4) What is the procedure?
Hitherto we have never operated coaches of our own, preferring to hire them as required, but next year we are thinking very seriously of doing so, and we favour the six-wheeler •type fitted with special coachwork of our own design and regarding which we should be obliged for the following particulars :—(1) What are the maximum overall length and width permitted by the M.O.T. for this type of vehicle? (2) What are the regulations governing their use in London for general sightseeing purposes, and/or for private hire of all kinds? (3) To whom are wireless fees payable and what is the amount?
We thank you in advance and for your most helpful
assistance in the past. HirtEfts. London, [The vehicle would come under the category of an Express Carriage. The licences which would be necessary would be a public service vehicle licence and a road service licence. It would also he necessary for you to obtain a certificate of fitness before the licences are granted. The licences would have to be obtained from the London Traffic Commissioner, whose offices are at Romney I louse, Marsham Street, London, SAVA. In the first place you would have to fill up the forms of application which you would obtain from the offices of the Commissioner. In due course you would have to appear before him in support of your application. If the route passes into any other Traffic Area, you must have the licences backed by the Commissioners for such Areas. The maximum overall length and width of a single-deck vehicle used as a public service vehicle are the same as for any heavy motor vehicle, namely, length for four-wheeler 27 ft. 6 ins., for one with more than four wheels, 30 ft. ; width for either, 7 ft. 6 ins. To obtain a certificate of fitness it would be necessary for the vehicle to comply with the requirements laid down in the Public. Service Vehicles (Conditions of Fitness) Provisional Regulations, 1931, as amended by rive Amending Regulations made in 1932; two Amending Regulations made in 1933; one in 1934, and one in 1935. Copies of these Regulations can be obtained from the Stationery Office, Kingsway, W.C.2, or ordered from any bookseller. We are not aware of any special regulations governing the use of public service vehicles for general sight-seeing in London, apart from any condition attached to the road service licences, nor of any special regulation which applies to vehicles used for private hire, but we suggest that you should snake inquiry on these points at the offices of the Commissioner. If the coach be equipped with wireless, apart from the ordinary. 10s. licence for the installation of a " receiving station," it is necessary to pay the Performing Right Society (address 33, Margaret Street, London, W.1), a special licence for the broadcast of music, the minimum charge for this being five guineas. This society is not concerned with the broadcast of news, but various news agencies forbid this, although, apparently, there i has been no test case.—Ep.]
TESTS OF TIMBER STRENGTH.
[4737] In an article by "A Timberman " in your issue dated February 8, 1935, the breaking strains of ash and oak are given. • These are said to be the results of official tests.
I realize that iris rather late to ask for further information regarding these tests, but with the advent of the metal body it is becoming increasingly necessary in the coachbuilding industry to have definite data as to the strength of timber.
I should be grateful if you could let Me know what body carried out these tests and whether it be possible to obtain further particulars, such as whether the tests were conducted with native timber, whether the results given are an average of results over a number of tests, and the extent to which the timber had been seasoned.
London, S.W.11. F. Bisnor.
[The tests relating to oak and ash which appeared in the article referred to were carried out by the Admiralty some years ago. It may be assumed that the wood was in a properly seasoned condition, otherwise the results of the tests would be valueless. We are unable to say whether the woods were native or not, but believe that they were British woods, as English oak and ash are known to be the strongest woods of their kind, greatly favoured in all Government work. However, if you will communicate with the Department of Scientific Research, of the Forests Products Research Laboratory, Princes Risborough, you can obtain all the information you desire on this particular subject—Fu.]