Air Transport News
31st January 1936
Page 47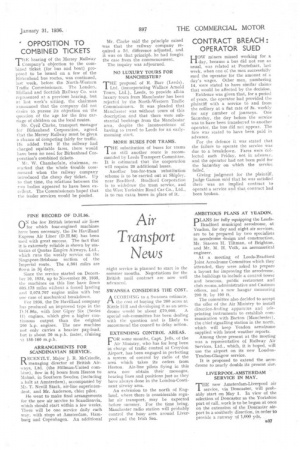 Page 47, 31st January 1936 —
Air Transport News
Close
FINE RECORD OF D.H.86. •
ON the few British internal air lines for which four-engined machines have been necessary, the De Havilland Express Air Liner (D.H.86) has been used with great success. The fact that it is extremely reliable is shown by statistics of Qantas Empire Airways, Ltd., which runs the weekly service on the Singapore-Brisbane section of the Imperial route. The 4,361 miles are flown in 31days.
Since the service started on December 10, 1934, up to November 30, 1935, the machines on this line have flown 605,173 miles without a forced landing arid 2,075,707 engine miles with but one case of mechanical breakdown.
For 1936, the De Havilland company has produced an improved type in the D.H.86a, with four Gipsy Six (Series 11) engines, which give a higher continuous output than the original
200 h.p. engines. The new Machine not only carries a heavier pay-load, but is about 20 m.p.h. faster, cruising -it 155-160 m.p.h. •
ARRANGEMENTS FOR SCANDINAVIAN SERVICE.
RECENTLY, Major J. R. 1McCrindle, managing director of British Airways, Ltd. (the Hillman-United combine), hew In 5i hours from Heston to Malmii, in Southern Sweden. (including a halt at Amsterdam), accompanied by Mr. T. Nevin Stack, air-line superintendent, and Mr. Anderson, chief pilot.
He went to make final arrangements for the new air service to Scandinavia, which should start within a few Weeks. There will be one service daily each way, with stops at Amsterdam, Hamburg and Copenhagen. An additional night service is planned to start in the summer months. Negotiations for the British mail contract are now well advanced. •
SWANSEA CONSIDERS THE COST.
ACCORDI NG to a Swansea estimate, the cost. of buying the 260 acres at Kittle Hill and developing it as an aero
drome would be about £70,000. A special sub-committee has been dealing with the question and is likely to recommend the council to delay action.
EXTENDING CONTROL AREAS. rOR some months, Capt. Jeffs, of the
Air Ministry, who has for long been in charge of traffic control at Croydon Airport, has been engaged in perfecting a system of control by radio of the area which tikes its orders from Heston. Air-line pilots flying in this area now obtain their messages, bearing lines and positions just as they have always done in the London-Continent airway area.
An extension to the north of England; where there is considerable regular air transport, may be expected before summer. For the time being, Manchester radio station will probably control the busy area around Liverpool and the Irish Sea.
AMBITIOUS PLANS AT YEADON.
PLANS for fully equipping the LeedsBradford municipal aerodrome, at • Yeadon, for day and night air services, are to be prepared by two specialists in aerodrome design and construction, Mr. Stayers H. Tiltman, of Brighton, and Mr. M. H. Volk, an aeronautical engineer.
At a meeting of Leeds-Bradford Joint Aerodrome Committee which they attended, they were asked to prepare a layout for improving the aerodrome, the buildings to include acontroi tower and beacons, public restaurant and club rooms, administrative and Customs offices, and a new hangar measuring 200 ft. by 100 it.
The committee also decided to accept the offer of the Air Ministry to install direction-finding apparatus and teleprinting instruments to establish communication with Barton (Manchester), the chief signalling station in the north, which will keep Yeadon aerodrome supplied with latest weather reports.
Among those present at the meeting was a representative of Railway Air Services, Ltd., which, it is hoped, will use the airport on its new LondonYeadon-Glasgow service.
It is proposed to extend the:aerodrome to nearly double its present size.
LIVE R POOL-AMSTERDAM SERVICE IN MAY.
THE new Amsterdam-Liverpool air service, via 'Doncaster, will probably Start on May 1. In view of the selection of Doncaster as the Yorkshire port of call, work is to be begun. at once on the extension of the Doncaster airport in a southerly direction, in order to provide a runway of 1,000 yds. .