S.T.R. Lectures to Cleansing Officials
31st January 1936
Page 36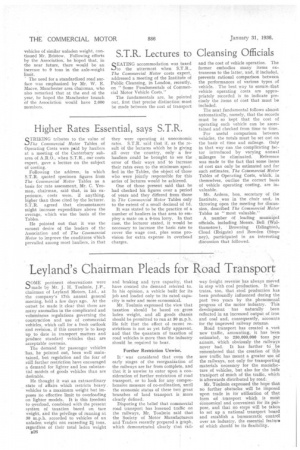 Page 36, 31st January 1936 —
S.T.R. Lectures to Cleansing Officials
Close
Keywords :
SEATING accommodation was taxed to the uttermost when S.T.R., The Commercial Motor costs expert, addressed a meeting of the Institute of Public Cleansing, in London, recently, on "Some Fundamentals of Commercial Motor Vehicle Costs."
The fundamentals are, he pointed out, first that precise distinction must be made between the cost of transport and the cost of vehicle operation. The former embodies many items extraneous to the latter, and, if included, prevents rational comparison between the performances of various types of vehicle_ The best way •to ensure-that vehicle operating costs are appropriately recorded is to indicate precisely the items of cost that must be included.
The next fundamental follows almost automatically, namely, that the records must be so kept that the cost of operating each vehicle can be ascertained and checked from time to time.
For useful comparison between vehicles, the totals must be set out an the basis of time and mileage. Only in that way can the complicating factor introduced by varying annual mileages be eliminated. Reference was made to the fact that some items of cost can only be estimated and for such estimates, The Commercial Motor Tables of Operating Costs, which, in themselves, outline the correct basis of vehicle operating costing, are invaluable.
Mr. Ardern, hon. secretary of the Institute, was in the chair and, in throwing open the meeting for discussion, described The Commercial Motor Tables as "most valuable."
A number of leading municipal officials, including Messrs. Bell (Wadtharnstow), Browning (Islington), Cloud (Reigate) and Bowden (Stepney), participated in an interesting discussion that followed.