Leyland's Chairman Pleads for Road Transport
31st January 1936
Page 36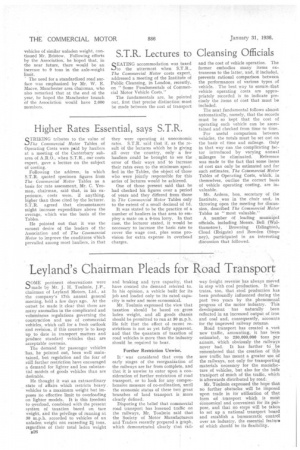 Page 36, 31st January 1936 —
Leyland's Chairman Pleads for Road Transport
Close
COME pertinent observations were ■ -) made by Mr. J. H. Toulmin, J.P., chairman of Leyland Motors, Ltd., at the company's 17th annual general meeting, held a few days ago. At the outset he made it clear that there are many anomalies in the complicated and voluminous regulations governing the construction and use of commercial vehicles, which call for a fresh outlook and revision, if this country is to keep up, to date in transport matters and produce standard vehicles that are acceptable overseas.
The demand for passenger vehicles has, he pointed out, been well maintained, but regulation and the fear of still further restriction have encouraged a demand for lighter and less substantial models of goods vehicles than are deSirable.
He thought it waS an extraordinary state of affairs which restricts heavy. vehicles to a maximum weight but imposes no effective limit to overloading on lighter models. It is this freedom to overload, combined with the present system of taxation based on tare weight; and the privilege of running at 30 m.p.h. accorded to vehicles of an unladen. weight ribt exceeding 2i tons, regardless of their total laden weight
n26 and braking and tyre capacity, that have created the demand referred to. In his opinion, a vehicle built for its job and loaded only to its rated capacity is safer and more economical.
Mr. Toulmin expressed the view that taxation should be based on gross laden weight, and all goods chassis should be permitted to run at 30 m.p.h. He felt that the effect of recent restrictions is not as yet fully apparent, and that the quantum of taxation of road vehicles is more than the industry should be required to bear.
Further Restriction Unwise.
It' was considered that even the early stages of the reorganization of the railways are far from complete, and that it is unwise to enter upon a consideration of further restriction of road transport, or to look for any comprehensive measure of co-ordination, °until the economic status of these two great branches of land transport is more clearly defined.
Disputing the belief that commercial road transport has lessened traffic on the railways, Mr. Toulmin said that the Society of Motor Manufacturers and Traders recently prepared a graph, which demonstrated clearly that rail
way freight revenue has always moved in step with coal production. It illustrates, too, that steel production has been profoundly influenced during the past two years by the phenomenal progress of the motor industry. This development has naturally been reflected in an increased 'output of iron and coal and, consequently, accounts for the improved railway returns. .
Road transport has created a vast• new traffic, amounting, it has been estimated, to 250,000,000 tons per annum, which obviously the railways never had. It has further to be remembered that the creation of this new traffic has meant a greater use of the railways, not only for transporting materials necessary for the manufacture of vehicles, but also for the bulk transport of much of the traffic, which is afterwards distributed by road..
Mr. Toulmin expressed the hope that no further obstacles will be imposed upon trade in its" utilization of that form .of .transport which is most economical and convenient for its puiPose, and that no steps will be takei to set up a national transport board and establish a bureaucratic control over an industry, the essential feature of which should be its flexibility.