Higher Rates Essential, says S.T.R.
31st January 1936
Page 36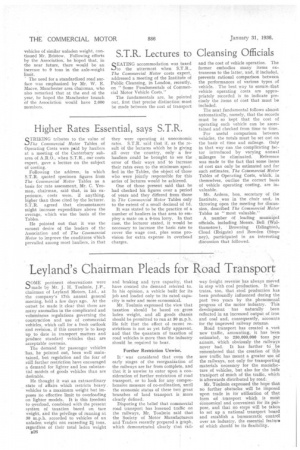 Page 36, 31st January 1936 —
Higher Rates Essential, says S.T.R.
Close
STRLKING tributes to the value of The Commercial Motor Tables of Operating Costs were paid by hauliers at a meeting of the Canterbury subarea of A.R.O., when S.T.R., our costs expert, gave a lecture on the subject of costing.
Following the address, in which S.T.R. quoted specimen figures from The Commercial Motor Tables as a basis for rate assessment, Mr. C. Yeoman, chairman, said that, in his experience, costs were, if anything, higher than those cited by-the lecturer. S.T.R. agreed that circumstances might increase expenditure above the average, which was the basis of the Tables.
He pointed out that it was the earnest desire of the leaders of the Association and of The Commercial Motor to improve the conditions which prevailed among most hauliers, in that
they were operating at uneconomic rates. S.T.R. said that if as the result of the lectures which he is giving all over the country, only a few hauliers could be brought to see the error of their ways. and to increase their rates even to the minimum specified in the Tables, the object of those who were jointly responsible for this series of lectures would be achieved.
One of those present said that he had checked his figures over a period of years and they differed from those in The Commercial Motor Tables only to the extent of a small decimal of Id.
It was stated to be the practice of a number of hauliers in that area to employ a mate on a 6-ton lorry. In that case, the lecturer stated, it would be necessary to increase the basic rate to cover the wage cost, plus some provision for extra expense in overhead charges.