What the Associ ions Are Doing
31st January 1936
Page 34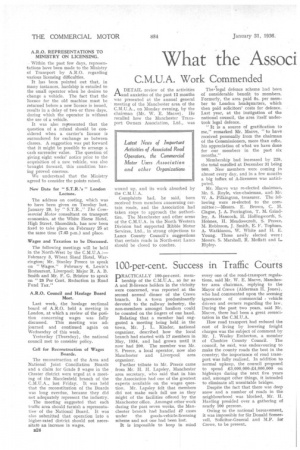 Page 35
Page 34, 31st January 1936 —
What the Associ ions Are Doing
Close
C.M.U.A. Work Commended
ADETAIL review of the activities and anxieties of the past 12 months was presented at the annual general meeting of the Manchester area of the C.M.U.A., on Monday evening, by the chairman (Mr. W. E. Macve). He recalled how the Manchester Transport Owners Association, Ltd., was
wound up, and its work absorbed by the C.M.U.A.
Complaints had, he said, been received from members concerning certain roads, and the Association had taken steps to approach the authorities. The Manchester and other areas of the C.M.U.A. in the North Western Division had supported Ribble Motor Services, Ltd., in strong objections to Lanes County Council's suggestions that certain roads in North-east Lanes should be closed to coaches.
Thevflegal defence scheme had been of considerable benefit to members. Formerly, the area paid 55. per member to London headquarters, which then paid solicitors' costs for defence. Last year, at the instigation of the national council, the area itself undertook legal defence.
"it is a source of gratification to me," remarked Mr. Macve, "to have received personally from the chairman of the Commissioners, more than orfce, his appreciation of what we have done for our members in the past six months."
Membership had increased by 220, the total enrolled at December 31 being 960. New members were coming in almost every day, and in a few months a big influx of A-licensees was anticipated.
Mr. Ilacve was re-elected chairman, Mr. S. Royle, vice-chairman, and: Mr. W. A. Pilkington, treasurer. The following were re-elected to the committee:—Messrs. E. Brown, C. H. Clague, J. A. Ferrington, T. M. Grindley, A. Hancock, H. Hollingworth, S. Holmes, H. Meadowcroft, S. Preece, M. Robinson, J. Smith, E. F. Tophani, A. Watkinson, W. White and H. E. Young. Those newly elected were : Messrs. S. Marshall, R. Moffatt and L. Ripley.
Legislation Must Be Revised
REVISIONS in existing legislation were urged by Mr. 0, C. Power, chairman of the Birmingham Horse and Motor Vehicle Owners Association, at the annual general meeting, on Monday.
On the passenger side, he declared, there were many matters requiring the urgent attention of the Ministry of Transport, the first being the codifying of Orders and regulations into a revised Act. Two separate Acts, one Joe passenger-vehicle operators and the other for goods-vehicle owners, were also necessary.
Failing this, a revised Act should be promoted more clearly divided into two sections, dealing separately with the different classes of road user. Many difficulties had arisen through the authorities attempting to draft regulations for all road users, without full regard -to the peculiar circumstances of each branch of the industry.
Mr. Power criticized Section 19 of The 1930 Act, and the restriction of duplication of long-distance coaches. He stated that it was almost impossible for passenger-vehicle operators to comply with Section 19 without inflict
ing hardship on their nidn—a state of affairs which, he felt sure, could never have been anticipated by those responsible for drafting the clause.
Regarding the goods side, be thought that if operators were prepared seriously to tackle the question of wages and conditions, and to facilitate the work of the Area Conciliation Boards, they were entitled to the fullest consideration in connection with licensing.
He described the circular of the Association of British Chambers of Commerce as " a potential danger to all owners of commercial vehicles." Mr. Power stressed the fact that a large proportion of goods and passenger traffic by road was new traffic which had never gone by rail. It was high time, he added, that the industry was allowed to consolidate its position without constant apprehension of further bard ens.
During 1935, 110 new members joined the Association, whereas only four resigned. Through its efforts, improved haulage rates for work for Birmingham City Council have been obtained ROAD USERS HAMPERED BY RESTRICTIONS.
That the restrictive effect of regulations designed to protect the railways had been carried too far, was the opinion expressed by Mr. J. NV, Loudon, general secretary, at the annual general meeting of the Scottish C.M.U.A.
He referred also to the importance of unity within the industry, and made a strong plea for justice for drivers.
It was reported that membership of the Association was steadily increasing and that progress had been made in the fixing of haulage rates.
.Mr. T. W. Watson, Dundee, was appointed chairman for 1936, and Mr. J. C. Park, Aberdeen, vice-chairman.
Tags
People
:
L. Ripley
,
C. Power
,
Loudon
,
Dundee
,
R. Moffatt
,
Ilacve
,
W. E. Macve
,
J. C. Park
,
T. W. Watson
,
S. Royle
,
S. Marshall
,
W. A. Pilkington