A.R.O. REPRESENTATIONS TO MINISTRY ON LICENSING.
31st January 1936
Page 34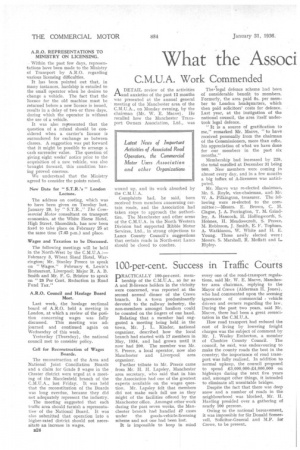 Page 34, 31st January 1936 —
A.R.O. REPRESENTATIONS TO MINISTRY ON LICENSING.
Close
Keywords :
Within the past few days, representations have been made to the Ministry of Transport by A.R.O. regarding various licensing difficulties.
It has been pointed out that, in many instances, hardship is entailed to the small operator when he desires to change a vehicle. The fact that the licence for the old machine must be returned before a new licence is issued, results in a delay of two or three days, during which the operator is without the use of a vehicle.
It was also represented that the question of a refund should be considered when a carrier's licence is surrendered for exchange as between classes. A suggestion was put forward that it might be possible to arrange a cash surrender value. The question of giving eight weeks' notice prior to the acquisition of a new vehicle, was also brought forward, this condition haying proved onerous.
We understand that the Ministry agreed to consider the points raised.
New Date for " S.T.R.'s " London Lecture.
The address on costing, which was to have been given on Tuesday last, January 28, by " S.T.R.," The Commercial Motor consultant on transport economics, at the White Horse Hotel, High Street, Shoreditch, has now been fixed to take place on February 25 at the same time (7.45 p.m.) and place.
-Wages and Taxation to be Discussed.
The following meetings will be held in the North-West by the C.M.U.A.:— February 3, Wheat Sheaf Hotel, Warrington; Mr. Stanley Preece to speak on " Wages." February 6, Lewis's Restaurant, Liverpool; Major R. A. B. Smith and Mr. F. G. Bristow to speak on "25 Per Cent. Reduction in Road Fund Tax."
A.R.O. Council and Haulage Board Meet.
Last week, the haulage sectional board of A.R.O. held a meeting in London, at which a review of the position concerning wages was fully discussed. This meeting was adjourned and continued again on Wednesday of this week.
Yesterday (Thursday), the national council met to consider policy.
Call for Reconstruction of Wages Boards.
The reconstruction of the Area and National Joint Conciliation Boards and a claim for Grade 3 wages in the Chester district were urged at a meeting of the Macclesfield branch of the C.M.U.A., last Friday. It was held that the reconstitution of the Boards was long overdue, because they did not adequately represent the industry.
The meeting suggested that each traffic area should furnish a representative of the National Board. It was also submitted that operation into a higher-rated district should not necessitate an increase in wages.
224