Protecting
31st January 1936
Page 30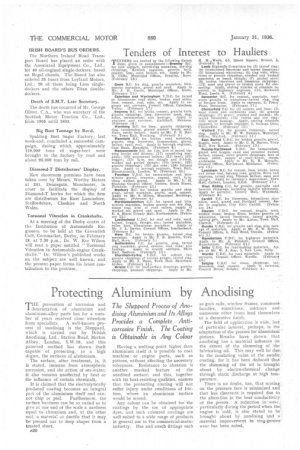 Page 30, 31st January 1936 —
Protecting
Close
Aluminium by Anodising THE prevention of corrosion and deterioration of aluminium and aluminium-alloy parts has for a number of years received close attention from specialists. A well-known process of anodising is the Sheppard, which is carried out by British Anodising, Ltd., Station Road, Merton Abbey, London, S.W.19, and this patented method has shown itself capable of protecting, to a high degree, the surfaces of aluminium.
The surface, alter treatment, is, it is stated, immune from atmospheric corrosion, and the action of sea-water; it also remains unaffected by heat or the influence of certain chemicals.
It is claimed that the electrolytically produced coating becomes an integral part of the aluminium itself and can not chip or peel. Furthermore, the surface hardness can be so varied as to give at one end of the scale a nardness equal to chromium and, at the other end, a ma.eria o ductile that it may be pressed out to deep shapes from a treated sheet.
n20 Having a melting point higher than aluminium itself it is possible to coat machine or engine parts, such as pistons, without affecting the necessary tolerances. Resistance to abrasion is another marked feature of the anodised surface, and this, together with its heat-resisting qualities, ensures that the protecting coating will not suffer injury under conditions of friction, where an aluminium surface would be scored.
Any colour can be obtained for the coatings by the use of appropriate dyes, and such coloured coatings are well suited to a wide range of prothiCtS in general use in the commercial-motor industry. Bus and coach fittings such as grab rails, window frames, commooe handles, stanchions, ashtrays and! numerous other items lead themselves • to a decorative finish.
The field of application is wide, but of particular interest, perhaps, is the adaptation of the process for aluminiurri -' pistons. Rasults have shown that anodising has a material influence on the extent of the slumming of the lubricating oil. This may well'be due
to the insulating value of the anodic:', coating, for it has been deduced that .
the slumming of the oil is brought ' about by eIectro-chemical change • through static discharge at high temperature.
There is no doubt, too, that scoring;; on the pressure face is minimized and:. that 'less clearance is required due to the alteration In the heat cOnductivity!: of the piston. A. reduction in wear,!1 particularly d'ariiig the'PeriOd when the! engine is cold, is also stated to be brought about by anodising and a material improvement in ring-groove' wear has been noted.