IRISH BOARD'S BUS ORDERS.
31st January 1936
Page 30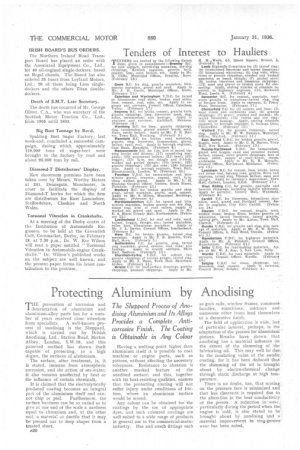 Page 30, 31st January 1936 —
IRISH BOARD'S BUS ORDERS.
Close
The Northern Ireland Road Transport Board has placed an order with the Associated Equipment Co., Ltd., for 40 oil-engined single-deckers, based on Regal chassis. The Board has also ordered 35 buses from Leyland Motors, Ltd., 20 of them being Lion singledeckers and the others Titan doubledeckers.
Death of S.K.T. Late Secretary.
The death has occurred of Mr. George Oliver, C.A., who was secretary of the Scottish Motor Traction Co., Ltd., from 1905 until 1933.
Big Beet Tonnage by Road.
Spalding Beet Sugar Factory, last week-end, concluded a successful campaign, during which approximately 110,000 tons of sugar-beet were brought to the factory by road and about 95,000 tons by rail.
Diamond-T Distributors' Display.
New showroom premises have been taken, over by Messrs. Worthy Motors at 241, Deansgate, Manchester, in oraer to facilitate the display of Diamond-T lorries for which the firm are distributors for East Lancashire, Staffordshire, Cheshire and North Wales.
Torsional Vibration in Crankshafts.
At a meeting of the Derby centre of the Institution of Automobile Engineers, to be held st the Cavendish Cafe, Cornrnarket, Derby, on February 18, at 7.30 p.m., Dr. W. Ker Wilson will read a paper entitled " Torsional Vibration in Automobile-engine Crankshafts." Dr. Wilson's published works on the subject are well known, and the present paper forms his latest contribution to the problem.,