Where Should Vehicle Be Licensed?
31st January 1936
Page 29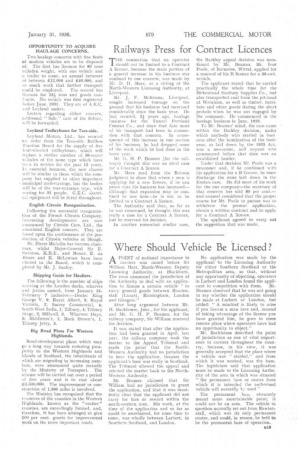 Page 29, 31st January 1936 —
Where Should Vehicle Be Licensed?
Close
A POINT of national importance to 1–t carriers was raised before Sir William Hart, North-Western Deputy Licensing Authority, at Blackburn. The issue concerned the jurisdiction of the Authority to deal with an application to license a certain vehicle " to carry general goods between Rawtenstall (Lanes), Birmingham, London and Glasgow."
After long argument between Mr, H. Backhouse, Junr., for the applicant, and Mr. G. H. P. Beames, for the railway company, Sir William reserved his decision.
It was stated that after the application had been granted in April, last year, the railway company took the matter to the Appeal Tribunal and made the point that the NorthWestern Authority had no jurisdiction to hear the application, because the applicant's base was really in Scotland. The Tribunal allowed the appeal and referred the matter back to the NorthWestern Authority.
Mr. Beames claimed that Sir William had no jurisdiction to grant the application, and that it was manifestly clear that the applicant did not carry for hire or reward within the north-western area. His work, at the time of the application and so far as could be ascertained, for some time to come, was wholly between Larbert, in Southern Scotland, and London.
No application was made by the applicant to the Licensing Authority for either Southern .:Scotland or the Metropolitan area, so that, without any opportunity of objecting, operators in Larbert and London found the applicant in competition with them. Mr. Beames observed that he was not going to say whether the application should be made at Larbert or London, but added: " A mischief is likely to arise if you license a man here and, instead of taking advantage of the licence you have granted him, he goes to some remote place where operators have had no opportunity to object.".
Mr. Backhouse described the point of jurisdiction as one of vital importance to carriers throughout the country, because, in his view, it was generally accepted that the place where a vehicle was " stabled," and from which it was worked, was the base. The legislature said that application must be made to the Licensing Authority of the area in which was situated " the permanent base or centre from which. it is intended the authorized
vehicle will normally used-"
The permanent bas. obviously meant some ascertainable point; it could not be an area. The vehicle in .question normally set out from Rawtenstall, which was its only permanent centre, and could, in reason,, be held to be the permanent base of operation..