Railways Press for Contract Licences
31st January 1936
Page 29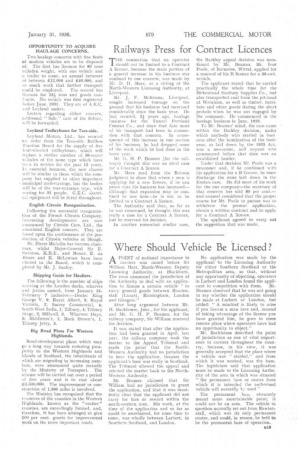 Page 29, 31st January 1936 —
Railways Press for Contract Licences
Close
THE contention that an operator should not be limited to a Contract A licence, because the main portion of a generalincrease in his business was confined to one concern, was made by Mr.. D. H. Mace, at a sitting of the North-Western Licensing Authority, at Liverpool.
Mr. J. F. McKenna, Liverpool, sought increased tonnage on the ground that his business had increased considerably since the basic year. He had secured, 2f years ago, haulage business for the Tunnel Portland Cement ,Co., and since that date most of his transport had been in connection with that concern. In consequence of this increase in one section of his business, he had dropped sonic of the work which he had done in the basic year.
Mr. G. H. P. Beanies (for the railways) thought this was an ideal case for a Contract A licence.
Mr. Mace read from the Robson judgment to show that where a man is applying for a new licence, if he can prove that his business has increased— although that expansion may be confined to one firm—he is not to be limited to a Contract A licence.
The Authority said that, so far as he was concerned, he thought this was really a case for a. Contract A licence, but he reserved his decision.
In another somewhat similar case, the Barkley appeal decision was mentioned by Mr. Beames. Mr. Ivor Poole, of Barn ston, Wirral, applied for a renewal of his B licence for a 36-cwt. vehicle.
The applicant stated that he carried practically the whole time for the Birkenhead Sanitary Supplies Co., but also transported coal from the pit-head at Wrexham, as well as timber, furniture and other goods during the short periods when he was not engaged by the company. He commenced in the haulage business in June, 1933.
To Mr. Bearnes' mind, the case came within the Barkley decision, under which anybody who Started in busi ness after the termination of the basic year, as laid down by the 1933 Act, was a newcomer, and anyone who commenced before that date was an established haulier, Under that decision Mr. Poole was a newcomer and, if he continued with his application for a B licence, he must discharge the onus laid down in the Enston case, He did most of his work for the one company—the secretary of that concern has said 80 per cent.— and counsel considered that the propel course for Mr. Poole to pursue was to withdraw the present application, obtain a written contract and to apply for a .Contract A licence.
The applicant agreed to carry out the suggestion that was made.