OPPORTUNITY TO ACQUIRE HAULAGE CONCERNS.
31st January 1936
Page 29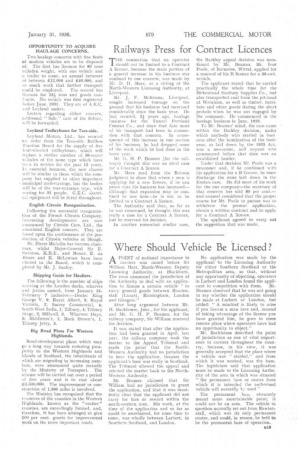 Page 29, 31st January 1936 —
OPPORTUNITY TO ACQUIRE HAULAGE CONCERNS.
Close
Two haulage concerns with fine fleets of modern vehicles are to be disposed of. The first has licences for 80 tons unladen weight, with one .vehicle and a trailer to come, an annual turnover of between £12,000 and £40,000, and so much work that further transport could be employed. The second has licences for 231 tons and goods contracts. No vehicle was first registered before June, 1931. They are of A.E.C. and Leyland makes.
Letters regarding either concern, addressed " Sale," . care of the Editor, will be forwarded.
Leyland Trolleyhuses for Tees-side.
Leyland Motors, Ltd., has secured an order from the Tees-side Railless 'fraction Board for -the supply of five four-wheeled trolleybuses, which will replace a similar number of 36-seater vehicles of the same type which have been in service for the past 15 years. In essential features, the new chassis will be similar to those which the coin
has supplied to other important municipal undertakings, but the bodies will be of the rear-entrance type, with seating for 32 people. G.E.C. electrical equipment will be fitted throughout.
English Citron Reorganization, Following the successful reorganization of the French Citroen Company, interesting developments are now announced by Citroen Cars, Ltd., the associated English concern. They are based upon The continuance of the production of Citroen vehicles at Slough.
Mr. Pierre Michelin has become chairman, whilst Major-General Sir E. Swinton, K.B.E., and Messrs. E. du Hours and K. McLennan have been erected to the Board, which iscompleted -by -Mr. J. Sunley.
Shipping Guide for Hauliers.
The following is the number of ships arriving at the London docks, wharves and jetties named, from January 31February 7 inclusive:—Docks: King George V, 9; Royal Albert, 9; Royal Victoria, .2; Surrey Commercial, 4; South West India, 1; Tilbury, 4; Tilbury
Stage, 2; 3. Wharves: Hays, 5; Middleton's, 1; Mark Brown's,1. Tilbury Jetty, 3.
Big Road Plans For Western Highlands.
Road-development plans which may go a long way towards restoring prosperity to the Western Highlandsand islands of Scotland, the inhabitants of which ate migrating in increasing numbers, were announced quite recently by the Ministry of Transport. The scheme will he carried out over a period of five years and is to cost about X.4,500,000, The improvement or construction Of 1,500 miles is involved.
The Ministry has recognized that the resources of the counties in the Western Highlands, known. as the a-crofter" counties, are exceedingly limited, and, therefore, ithas been arranged to give 100 per cent,. grants for improvement work on the more important roads.