Yorkshire Wages Award: New Terms
31st January 1936
Page 28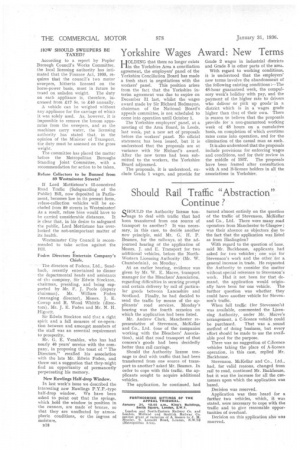 Page 28, 31st January 1936 —
Yorkshire Wages Award: New Terms
Close
HOLDING that there no longer exists in the Yorkshire Area a conciliation agreement, the employers' panel of the Yorkshire Conciliation Board has made a fresh start in negotiations with the
workers' panel. This position arises from the fact that the Yorkshire interim agreement was due to expire on December 31 last, whilst the wages award made by Sir Richard Reclmayne, chairman of the National Board's appeals committee, is not scheduled to come into operation until October 1.
The Yorkshire employers' panel, at a meeting of the Area Board, in Leeds, last week, put a new set of proposals before the workers' panel. No official statement has been issued, but it is understood that the proposals are at variance with Sir Richard's award. After the new terms had been submitted to the workers, the Yorkshire Board adjourned.
The proposals, it. is understood, exclude Grade 1 wages, and provide for Grade 2 wages in industrial districts and Grade 3 in other parts of the area.
With regard to working conditions, it is understood that the employers' new terms involve the abandonment of the following existing conditions :---The 48-hour guaranteed week, the compulsory week's holiday with pay, and the .payment of the higher rate to drivers who deliver or pick up goodsin a district Which is in a' wages grade higher than that of their own. There is reason to believe that the proposals provide for 'a non-guaranteed working week of 48 hours on a cumulative basis, on completion of which overtime rates come into operation, and for the elimination of the casual man as such.
It is also understood that the proposals include provisions for enforcing wages and conditions, and for their review in the middle of 1937. The proposals have been framed after consultation with A and B-licence holders in all the associations in Yorkshire.