HOW SHOULD SWEEPERS BE TAXED?
31st January 1936
Page 28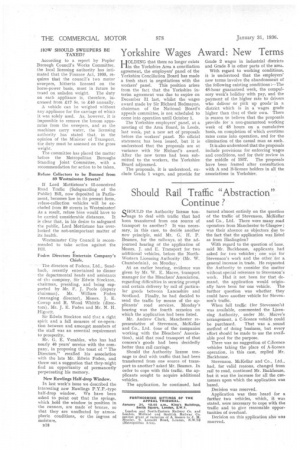 Page 28, 31st January 1936 —
HOW SHOULD SWEEPERS BE TAXED?
Close
Keywords :
According to a report by Poplar Borough Council's Works Committee, the local licensing authority has intimated that the Finance Act, 1935, requires that the council's two motor sweepers, hitherto licensed on the horse-power basis, must in future be taxed on unladen weight. The duty on each appliance is, therefore, increased from £17 5s, to £40 annually.
A vehicle can be weighed without any appliance for the carriage of whicb it was solely used. As, however, it is impossible to remove the broom apparatus from the sweepers, and as the machines carry water, the licensing authority has stated that, in the opinion of the Minister of Transport, the duty must be assessed on the gross weight.
The committee has placed the matter before the Metropolitan Boroughs Standing Joint Committee, with a recommendation for action to be taken.
Refuse Collectors to be Banned from 89 Westminster Streets?
If Lord Mottistone's ill-conceived Road Traffic (Safeguarding of the Public) Bill, now deposited in Parliament, becomes law in its present form, refuse-collection vehicles will be exeluded from 89 streets in Westminster! As a result, refuse bins would have to he carried considerable distances. It is clear that, in his desire to safeguard the public, Lord Mottistone has overlooked the not-unimportant matter of its health.
Westminster City Council is recommended to take action against the Bill.
Foden Directors Entertain Company's
Chiefs.
The directors of Fodens, Ltd., Sandhach, recently entertained to dinner the departmental heads -and assistants of th?. company, Sir Edwin Stockton, chairman, presiding, and being supported by Mr. F. J. Poole (deputy chairman), Mr. William Poderi (managing director), Messrs. J. E. Cowap and R. Wood Whittle (directors), Mr, J. E. Foden and Mr, N. H. Hignett.
Sir Edwin Stockton said that a right spirit and a full measure of co-operation between and amongst members of the staff was an essential requirement to prosperity.
Mr. G. E. Venables, who has had nearly 40 years' service with the company, in proposing the toast of "The Directors," recalled his association with the late Mr. Edwin Foden, and threw out a suggestion that they. might find an opportunity of permanently perpetuating his memory.
New Rawlings Half-drop Window.
In last week's issue we described the interesting new Rawlings P.Y.P.-type half-drop window. We have been asked to point out that the springs, which hold the window, in position in the runners, are made of bronze, so that they are unaffected by atmospheric conditions, or the ingress of moisture.
nI8