PERSONAL PARS.
31st January 1936
Page 27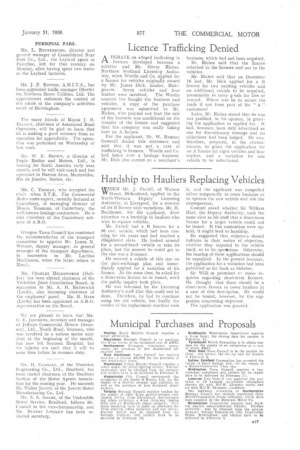 Page 27, 31st January 1936 —
PERSONAL PARS.
Close
MR. L. RUTTENBURG, director and general manager of Consolidated Near East Co., Ltd., the Leyland agent in Palestine, left for that country on Monday, after having spent two weeks at the Leyland factories.
MR. J. E. RAYSON, A.M.I.T.A., has been appointed traffic manager (North) for Northern Motor Utilities, Ltd. The appointment embraces the control of the whole of the company's activities north of Birmingham.
The many friends of MAJOR J. B. ELLIOTT, chairman of Associated Road Operators, will be glad to learn that he is making a good recovery from an operation for appendicitis. The operation was performed on Wednesday of last week.
Ms, W. E. BROWN, a director of Duple Bodies and Motors, Ltd., is leaving for South America early next month, and he will visit coach and bus operators in Buenos Aires, Montevideo, Rio de Janeiro, Santos, etc.
MR, C. YEOMAN, who occupied the chair when S.T.R., The Commercial Motor costs expert, recently lectured at Canterbury, is managing director of Messrs. Yeomans, of Canterbury, the well-known haulage contractors. He is also chairman of the Canterbury subarea of A.R.O.
Glasgow Town Council has confirmed the recommendation of the transport committee to appoint Mr. JAMES N. WILSON, deputy manager, as general manager of the transport department, in succession to Mr, .Lachlan Mackinnon, when the latter retires in March.
MR. CHARLES HOLDSWORTH (Halifax) has been elected chairman of the Yorkshire Joint Conciliation Board, in succession to Mr. A. H. Butterwick (Leeds), also becoming chairman of the employers' panel. MR. R. BARR (Leeds) has been appointed an A.R.O. representative on the Board.
We are pleased to learn that MR. G. E. JEFFREYS, secretary and manager of Jeffreys Commercial Motors (Swansea), Ltd., Neath Road, Swansea, who was involved in a serious motor accident at the beginning of the month, has now left Swansea Hospital, but his injuries are such that it will be some time before he resumes duty.
Mn. H. CUNDALL, of the Thornton Engineering Co., Ltd., Bradford, has been elected chairman, of the Bradford Section of the Motor Agents Association for the ensuing year. He succeeds Mr. Walter Jowett, of the Jowett Motor Manufacturing Co., Ltd.
Me. S. S. ADAMS, of the Undercliffe Motor Service, Bradford, follows Mr. Cundall in the vice-chairmanship, and Ma. RUPERT LINDLEY has been reelected secretary.
Tags
People
:
L. RUTTENBURG
,
Walter Jowett
,
R. BARR (Leeds)
,
C. YEOMAN
,
J. E. RAYSON
,
H. CUNDALL
,
CHARLES HOLDSWORTH
,
JAMES N. WILSON
,
RUPERT LINDLEY
,
J. B. ELLIOTT
,
A. H. Butterwick (Leeds)
,
W. E. BROWN