Municipal Purchases and Proposals
31st January 1936
Page 27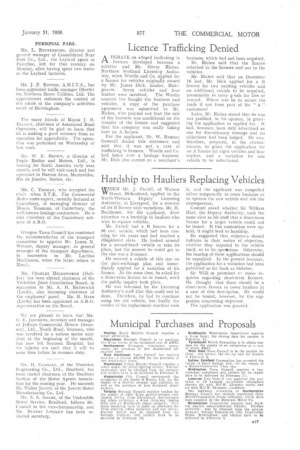 Page 27, 31st January 1936 —
Municipal Purchases and Proposals
Close
Wortley Rural District Council requires a motor ambulance.
Marylebone Borough Council is to purchase two 2-ton terries at an estimated cost of £900. Northampton Transport Committee recommends the purchase of five double-tieck oilengined buses.
West Hartlepool Town Council has received sanction to borrow £3,405 for the provision of two double-deck buses.
Washington 'Urban District Council requires a tower Nvagou for street-lighting service. Further particulars may be obtained from the surveyor and tenders hare to be delivered by February 4. Westminster City Council recommends the acceptance of the tender of Rootes, Ltd., for the supply of e Ranier sweeper and collector, as well as the purchase of four Scammell street washers.
Torquay Borough Council requires tenders for the supply uf eight 2-ton general-purpose endtipping lorries, three 15-cubic-yd. dustless-loading refuse collectors, a 4-ten three-way tipping lorry and an 8-cubic-yd, rein-se collector. Concerns -tendering have to make an allowance for three existing refuse colleetori and two lorries, Further details may be obtained from the borough engineer, and tenders have to be delivered by Feb.:nary 10. Bridlington Waterworks Department requires a 2-ton lorry; the closing date 101' tenders is February 11. • Tynemouth Watch Committee is to obtain ten. dens for the supply of an ambulance at a cost of about 4800. West Ham Town Council is in the market for three -ton lorries; the rising date for tenders is Febrisry 6.
suttee coidueid Corporation has accepted the tender of Ideal Garage, Ltd., for the supply of a Morris-Commercial 7-ton van.
Bridlington Town Council requires a twostretcher ambulance and tenders for its supply have to be delivered by February 11. Leicezter City Conn-it ens approved the purchase en 12 Leyland -ix-cylinder ca-engined chassis, six with scow, 52-seater bodies and six with M.C.W. 36-seater ..oachworli.
The highwaye ccromittee of Northampton Bsrougs Council has recently purchased three Morris-Commercial refuse collectors, which have been supplied by the Dernrate Motor Co. Birmingham Corporation requires four 31/.-4ton electric refuse-collection vehicles. Further particular l may be obtained from the general manager, Salvage Departmont, 161, Corporation Street, Birmingham, and tenders have to be delivered by February 5.
Tags
Organisations
:
Bridlington Waterworks Department
,
Urban District Council
,
Northampton Bsrougs Council
,
Westminster City Council
,
Tynemouth Watch Committee
,
Municipal Purchases and Proposals Wortley Rural District Council
,
Torquay Borough Council
,
Northampton Transport Committee
,
West Hartlepool Town Council
,
Marylebone Borough Council
,
West Ham Town Council
,
Bridlington Town Council