Licence Trafficking Denied
31st January 1936
Page 27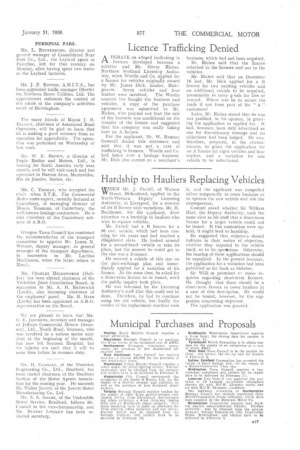 Page 27, 31st January 1936 —
Licence Trafficking Denied
Close
ADEBATE on alleged trafficking in licences developed between a solicitor and Mr. Henry Riches. Northern Scotland Licensing Authority, when Wordie and Co. applied for a licence for vehicles originally owned by Mr. James Dick, haulier, Blairgosvrie. Seven vehicles and four
trailers were involved. The Wordie concern has bought the business and vehicles. A copy of the purchase agreement was submitted to Mr. Riches, who pointed out that the sale of the business was conditional on the transfer of the licence and suggested that the company was really taking over an A licence.
For the applicant, Mr. W. Ramsay Gem-till denied this statement and said that it was not, a case of trafficking in licences. Wordie and Co, had taken over a haulage business. Mr. Dick also carried on a merchant's
business, which had not been acquired. Mr. Riches said that the licence attached to the licensee and not to the vehicles.
Mr. Riches said that on December 16 last, Mr. Dick applied for a B licence for two existing vehicles and an additional vehicle to be acquired, presumably to carry gods for hire or reward. Where was he to secure the trade if not from part of his " A " customers?
Later, Mr. Riches stated that he was not justified, in his opinion, in granting the application as applied far. It had, however, been duly advertised as one for discretionary tonnage and no objections had been lodged. He was, therefore, prepared, in the circumstances, to grant the application for an A licence for eight vehicles and four trailers, and a variation for one vehicle to be substituted.