Hardship to Hauliers Replacing Vehicles
31st January 1936
Page 27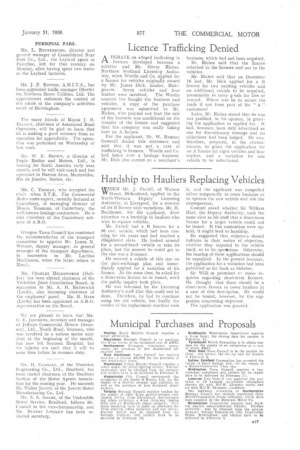 Page 27, 31st January 1936 —
Hardship to Hauliers Replacing Vehicles
Close
WHEN Mr, J, Farrell, of Watson VV Street, Birkenhead, applied to the North-Western Deputy Licensing Authority, at Liverpool, for a renewal of his B licence with variations, Mr. H. Backhouse, for the applicant, .drew attention to a hardship to hauliers who wish to replace vehicles.
Mr. Farrell had a B licence for a 30 cwt, vehicle, which had been running for six years and had reached a dilapidated state. He looked around for a second-hand vehicle to -take its place, but the nearest he could get to the size was a 2-tonner.
He secured a vehicle of this size on the part-exchange plan and immediately applied for a variation of his licence. At the same time, he asked for a short-term licence to be issued, until the public inquiry took place.
He was informed by the Licensing Authority's staff that this could not be done. Therefore, he had to continue using the old vehicle, but finally the vendor of the replacement machine took it, and the applicant was compelled either temporarily to cease business or to operate the new vehicle and risk the consequences.
Counsel asked whether Sir William Hart, the Deputy Authority, took the same view as his staff that a short-term licence for a larger vehicle could not be issued. If this contention were upheld, it might lead to hardship.
He suggested that objectors should indicate in their notice of objection, whether they objected to the vehicle itself, or to its opetirtions. Otherwise, the hearing of these applications should be expedited. In the present instance, the application for a variation had been published so far back as October.
Sir Willi .m promised ta make inquiries regarding short-term licences. He thought that there should be a -short-term licence to cover hauliers in a case of this description. He would Uot be bound, however, by the suggestion concerning objectors.
The application was granted.