One Hears
31st January 1936
Page 25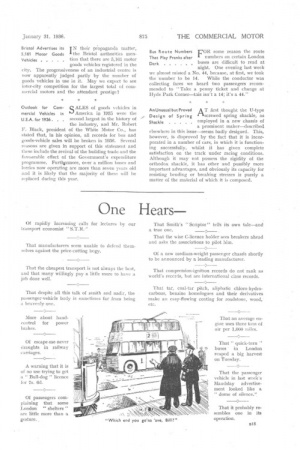 Page 25, 31st January 1936 —
One Hears
Close
Of rapidly increasing calls for lectures by our transport economist " S.T.R,•' That manufacturers seem unable to defend themselves against the price-cutting bogy.
That the cheapest transport is not always the best, and that many willingly pay a little more to have a job done well.
That despite all this talk of zenith and nadir, the passenger-vehicle body is sometimes far from being a heavenly one.
More about handcontrol for power brakes.
Of escape-me-never draughts in railway carriages.
A warning that it is of no use trying to get a " Bull-dog " licence for 'is. 6d.
Of passengers complaining that some London " shelters " are little more than a gesture.
That Smith's " Scriptor" tells its own tale—and a true one.
That the wise C-licence holder sees breakers ahead and asks the associations to pilot him.
Of a new medium-weight passenger chassis shortly to be announced by a leading manufacturer.
That compression-ignition records do not rank as world's records, but are international class records.
That tar, coal-tar pitch, aliphatic. chloro-hydrocarbons, benzine homologues and their derivatives make an easy-flowing coating for roadstone, wood, etc.
That an average engine uses three tons of air per 1,000 nileS.
That " quick-turn buses in London reaped a big harvest on Tuesday.
That the passenger vehicle in last week's Mandslay advertisement looked like a " dome of silence.'!
That it probably resembles one in its
"Which end you go'na 'ave, Bill?" operation, B15