THE COMMERCIAL MOTOR
31st August 1945
Page 32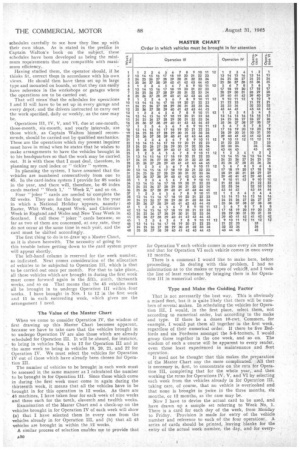 Page 34
Page 32, 31st August 1945 —
THE COMMERCIAL MOTOR
Close
Keywords :
schedules carefully to see how they line ,up with their own ideas. As is stated in the peace in Captain Walton's book on the subject, these schedules have been developed as being the minimum requirements that are compatible with maximum efficiency.
Having studied them, the operator should, if he thinks fit, correct them in accordance with his own views. He should then have them set up in large type and mounted on boards, so that they can easily have reference in the workshops or garages where the operations are to be carried out.
That will ntean-that the schedules for operations
I and II will have to be set up in every garage and every depot,and the drivers instructed to carry out the work specified, daily or weekly, as the case may be.
Operations III, IV, V, and VI, due at one-month, three-month, six-month, and yearly intervals, are those which, as Captain Walton hi/itself recommends, should be carried out by qualified mechanics. These are the operations which my present inquirer must have in mind when he states that he wishes to make arrangements to have the vehicles brought in to his headquarters so that the work may be carried out. It is with these that I must deal, therefore, in planning my card index or " tickler " system.
In planning the system, I have assumed that the vehicles are numbered consecutively from one to 45. In the card-index system I provide for 48 weeks in the year, and there will, therefore, be 48 index cards marked "Week 1,' "Week 2," and so on.
Four " joker " cards are needed tei complete the fi2 weeks. They are for the four., weeks in the year in which a National Holiday appears, namely: Easter, Whit Week, August Week, and Christmas Week in England and Wales and New Year Week in Scotland. I call these " joker " cards because, so far as two of them are concerned, at any rate, they do not occur at the same time in each year, and the card must be shifted accordingly.
The first thing tie do is to draw up a Master Chart,
as it is shown herewith. The necessity of going to this trouble before getting down to the eard system proper will appear shortly.
The left-hand column is reserved for the week number, as indicated. Next comes consideration of the allocation of vehicles to be subjected to Operation III, which is that to be carried out once per month. For that to take place,. all those vehicles which are brought in during the first week must come forward again in the fifth, ninth, thirteenth weeks, and so on That means that the 45 vehicles must all be brought in to undergo Operation III within. -four weeks.. I have brought in Nos. 1 to 12 in the first week and 11 in each succeeding week, which gives me the arrangement I need.
The Value of the Master Chart
When we come to consider Operation IV, the wisdom of first drawing up this Master Chart becomes apparent, because we have to take care that the vehicles brought in to undergo Operation IV are also those which are already scheduled for Operation III. It will be absurd, for instance, to bring in vehicles Nos. 1 to 12 for Operation III and in the same week to bring in vehicles 19, 20, 21, and 22 for Operation IV. We must select the vehicles for Operation IV out of those which have already been chosen for Operation III.
The number of vehicles to be brought in each week must be assessed in the same manner as I calculated the number to be brought in for Operation III. Since those which come in during the first week must come in again during the thirteenth week, it means that all the vehicles have to be brought in for this operation in 12 weeks. As there are 95 machines, I have taken four for each week of nine weeks and three each for the tenth, eleventh and twelfth weeks.
Examination of the Master Chart and a check-up on the vehicles brought in for Operation IV of each week will show (a) that I have selected them in every case from the vehicles already in for Operation III, and (b) that all 45 vehicles are brought in within the 12 weeks.
A similar process of selection enables me to provide that
for Operation V each vehicle comes in once every six months and that for Operation VI each vehicle comes in once every 12 months.
There is a comment I would like to make here, before
proceeding. In dealing with this problem, I had no information as to the makes or types of vehicri, and I took the line of least resistance by bringing them in for Operation III in numerical order.
Type and Make the Guiding Factor
That is not necessarily the best way. This is obviously a mixed fleet, but it is quite likely that there will be numbers of several makes. In scheduling the vehicles for Operation III, I would, in the first place, select them, not according to numerical order, but according to the make and type. If there be a dozen 10-cwt. Commers, for example, I would put them all together in the first week, regardless of their numerical order. If there be five Bedfcirds and six Fordsons amongst the 5-6-tonners, I would. group those together in the one week, and so on. The wisdom of sucha course will be apparent to every reader, even those least experienced in maintenance and fleet operation.
It need not he thought that this makesthe preparation of the Master Chart any the more complicated. All that is necessary is, first, to concentrate on the rota for Operation III, completing that for the whole year, and then working the rotas for Operations IV, V. and VI by selecting each week from the vehicles already in for Operation III, taking care, of course, that no vehicle is overlooked and that none is brOught in twice in the three months, six months, or 12 months, as the case may be.
Now I have to devise the actual card to be used, and have drawn up a sample set referring to Week No, 1. There is a card for each day of the week, from Monday to Friday. -Provision is made for entry of the vehicle number and reference to each of the four operation:. A series of cards, should be printed, leaving blanks for the entry of the actual week number, the day, and for every
thing below the line beginning with the words " Vehicle No."
During the first week, I have arranged that on Monday, Vehicle No. 1 shall, as indicated by the crosses, he brought in for all four operations. On Tuesday, Vehicle No. 2 comes in for Operations III. IV, and V. and Vehicle No. 3 for Opera
tions III and IV. On Wed
nesday, Vehicle No. 4 comes in for Operations III and IV, and vehicles numbered 5 and 6 for Operation III. On Thursday, vehicles numbered 7, 8, and 9 receive Operation and, similarly, on Friday, vehicles numbered 10, 11 and 12 are brought in for the carrying out of Operation DI.
It should be a simple matter, with the Master Chart
available, to sit down and draw up a whole series of cards for the year.
As regards the costing of these maintenance operations, I strongly recommend that the scheme set out in the previous article be followed precisely, in that there should be a number and order card issued for each operation and all time and material should be booked as described in the article already referred to.
For those who really wish to know what the maintenance of their vehicles actually costs, I would insist that each driver books the times spent on Operations I and II to his particular vehicle and that the expense thus involved be appropriately debited on the running-cost sheet, as recommended in the same article.. S.T.R.