A Card System to Control Maintenance
31st August 1945
Page 31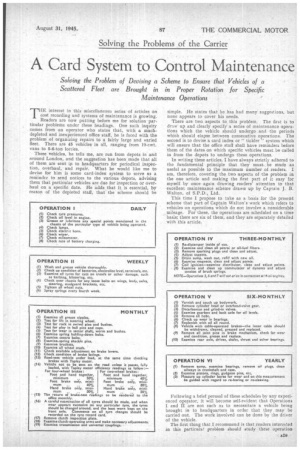 Page 31, 31st August 1945 —
A Card System to Control Maintenance
Close
THE interest in this miscellaneous series of articles on cost recording and systems of maintenance is growing. Readers are now putting before me for solution particular problems under these headings. One such inquiry comes from an operator who states that, with a muchdepleted and inexperienced office staff, he is faced with the problem of organizing repairs to a fairly large and varied fleet. There are 45 vehicles in all, ranging from le-cwt. vans to 5-6-ton lorries.
These vehicles, he tells me, are run from depots in and around London, and the suggestion has beert,made that all of them are sent in to headquarters for periodical inspection, overhaul, and repair. What he would like me to devise for him is some card-index system to serve as a reminder to send notices to the various depots, advising them that particular vehicles are due for inspection or overhaul on a specific date. He adds that it is essential, by reason of the depleted staff, that the scheme should be simple, He states that he has had many suggestions, but none appears to cover his needs.
There are two aspects to this problem. The first is to draw up and clearly specify a series of maintenance operations which the vehicle should undergo and the periods which should elapse between consecutive operations. The second is to devise a card index or " tickler " system which will ensure that the office staff shall have reminders before them of the dates on which specific vehicles must be called in from the depots to undergo these operations.
In writing these articles, I have always strictly adhered to the fundamental principle that they must, be made as useful as possible to the maximum number of readers. I am, therefore, covering the two aspects of -the problem in the one article and making the first part of it easy for myself by once again drawing readers' attention to that excellent maintenance scheme drawn up by Captain J. B. Walton, of S.P.D., Ltd.
This time I propose to take as a basis for the present scheme that part of Captain Walton's work which refers to vehicles on operations which do not involve a considerable mileage. For these, the operations are scheduled on a time basis; there are six of them, and they are separately detailed with this article.