B.R.F. Recommendations on Parking
31st August 1945
Page 28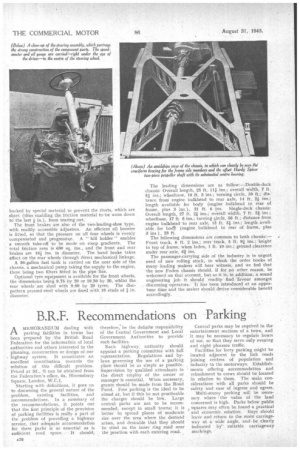 Page 28, 31st August 1945 —
B.R.F. Recommendations on Parking
Close
AMEMORANDUM dealing With parking facilities in towns has been prepared by the British Road Federation for the information of local authorities and others interested in the planning, construction or design of our highway system. It constitutes an excellent contribution towards the solution of this difficult problem. Priced at 3d., it can be obtained from the Federation's office, 4a, Bloomsbury Square, London, W.C.1.
Starting with definitions, it goes on to discussing the general nature of the problem, existing facilities, and recommendations. In a summary of the recommendations, it points out that the first principle of the provision of parking facilities is really a part of -the problem of providing a highway service, that adequate accommodation for these parks is as essential as is sufficient road space. It should,
therefore,' be the definite responsibility of the Central Government and Local Government Authorities to provide such facilities.
Each highway, authority should appoint a parking committee with full representation. Regulations and bylaws governing the use of a parking place should be as simple as possible. Supervision by qualified attendants in the direct employ of the owner or manager is essential. When necessary, grants should be made from the Road Fund. Free parking is the ideal to be aimed at, but if this be not practicable the charges should be low. Large central parks are not to be recommended, except in small towns; it is better to spread places of moderate size over the area where the demand arises, and desirable that they should be sited on the inner ring road near the junction with each entering road.. Central parks may be required in the entertainment sections of a town, and it may be necessary to regulate hours of use, so that they serve only evening and night pleasure traffic.
Facilities for lorry parking might be located adjacent to the link roads joining centres of population and industry to the motorways. Establishments offering accommodation and refreshment to crews should be located in relation to them. The main considerations with all parks should be safety and ease of ingress and egress.
Multi-storey parking will be necessary where the value of the land concerned is high. Parks below public 4 squares, may often be found a practical and economic solution. Bays should leave and return to the main carriageway at a wide angle, and. be clearly indicated by" suitable carriageway markings.