Plea to Remove Some Coaching Difficulties F URTHER representations to the
31st August 1945
Page 16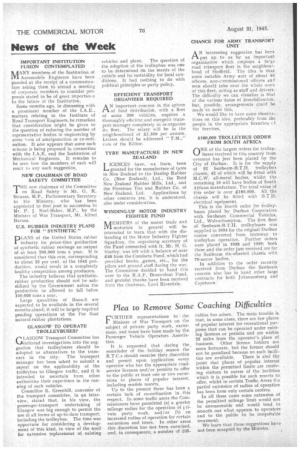 Page 17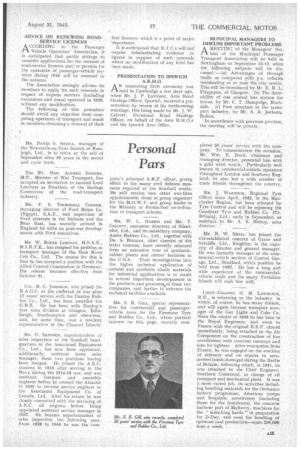 Page 16, 31st August 1945 —
Plea to Remove Some Coaching Difficulties F URTHER representations to the
Close
Minister of War Transport on the subject of private party work, excursions, and tours have been made by the Passenger Vehicle Operators Association
It is requested that during the, remainder of the holiday season the R.T.C.s should exercise their discretion and permit upon application every operator who has the appropriate toadservice licences and/or permits to offer to the public at least one or two excursions to places of popular interest, including seaSide resorts_
Up to the present there has been a certain lack of co-ordination in this respect. In some traffic areas the Commissioners have permitted (a) a greater mileage radius for the operation of private party work, and/or (b) an increased radius of operation for certain excursions and tours. In other areas this discretion has not been exercised, and, in consequence, a number of diffi
culties has arisen. The main trouble is that, in some cases, there are few places of popular interest for recreational purposes that can be operated under existing licences or permits and are within 25 miles from the operator's place of business. Other licence holders are more fortunate, but the former should not be penalized because no such facili ties are available, There is als6 the point that places of popular interest within the permitted limits are receiving visitors in excess of the facilities which it is possible for such resorts to offer, whilst in certain Traffic Areas the partial extension of radius of operation has been from only certain centres. In an these cases some extension of the permitted mileage limit would not be unreasonable and would tend to smooth out what appears to operators and to the public to be inequitable treatment.
We learn that these suggestions have not been accepted by the Minister. ADVICE ON RENEWING ROAD. SERVICELICENCES
ACCORDING to the Passenger Vehicle Operators' A-ssociation, it is anticipated that public sittings to consider applications for the renewal of road-service licences and /or permits far the operation of passenger-vehicle services during 1946 will be resumed in the autumn.
The Association strongly advises its members to apply for such renewals in respect of express services (including excursions and tours) operated in 1939, without any modification.
The following of this procedure should avoid any objection from competing operators of transport and result in members obtaining a renewal of their first licences, which is a point of major importance.
It is anticipated that R.T.C.s will not require substantiating evidence or figures in support of such renewals where no modification of any kind has been made.
PRESENTATION TO IPSWICH
AN interesting little ceremony was held in Cambridge a few days ago, when Mr. J. P. Lattimer, Area Road Haulage Officer, Ipswich, received a presentation by reason of his forthcoming marriage, this being made by Mr. J, W. Calvert, Divisional Road Haulage Officer, on behalf of the Area R.H.O.s and the Ipswich Area Office, MUNICIPAL MANAGERS TO DISCUSS IMPORTANT PROBLEMS A MEETING of the Managers' Sec
tion of the Municipal Passenger Transport Association will be held in Nottingham on September 12-13, when the following subjects will he discussed :—(a) Advantages of through traffic as compared with p.s. vehicles terminating at or near the city centre. This will be introduced by Mr. E. R. L. Fitzpayne, of Glasgow. (b) The desirability of one central bus station for towns, by Mr. C. T. Humpidge, Rochdale. (c) Pare structure in the transport industry, by Mr. A. A. Jackson, Bolton.
In accordance with previous practice, the meeting will be private.