One Hears
31st August 1945
Page 15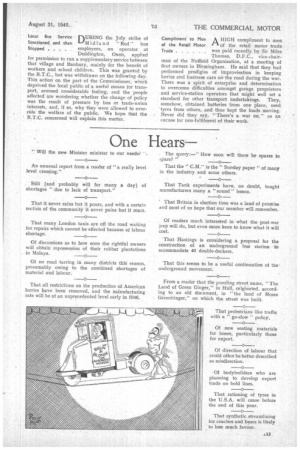 Page 15, 31st August 1945 —
One Hears
Close
'' Will the new Minister minister to our needs/ An unusual report from a reader of "a really level level crossing."
Still (and probably will for many a day) of shortages " due to lack of transport."
That it never rains but it pours, and with a certain section of the community it never pains but it roars.
That many London taxis are off the road waiting for repairs which cannot be effected because of labour shortage.
Of discussions as to how soon the rightful owners will obtain repossession of their rubber plantations in Malaya. 0 Of no road tarring in many districts this season, presumably owing to the combined shortages of material and labour.
That all restrictions on the production of American lorries have been removed, and the manufacturing rate will be at an unprecedented level early in 1946. The query:—" How soon will there be spares to ,pare? " 0 That the " C.M." is the "Sunday paper" of many in the industry and some others.
That Tank experiments have, no doubt, taught manufacturers many a " sound " lesson.
' That Britain in election time was a land of promise and most of us hope that our member will remember.
Of readers much interested in what the post-war jeep will do, but even more keen to know what it will cost.
That Hastings is considering a proposal for the construction of an underground bus station to accommodate 40 double-deckers.
That this seems to be a useful continuation of the underground movement.
From a reader that the puzzling street name, "The Land of Green Ginger," in Hull, originated, according to an old document, in "the land of Moses Greenhinger," on which the street was built.
That pedestrians like traffic with a " go-slow " policy.
Of new seating materials for buses, particularly those for export.
Of direction of labour that could often be better described as misdirection.
Of bodybuilders who are planning to develop export trade on bold lines.
That rationing of tyres in the U.S.A. will cease before the end of this year.
That synthetic streamlining for coaches and buses is likely to lose much favour.