Unity of Purpose More , Important Than Ever n N many occasions
31st August 1945
Page 14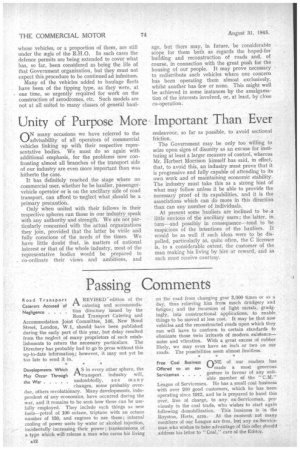 Page 14, 31st August 1945 —
Unity of Purpose More , Important Than Ever n N many occasions
Close
we have referred to the O of all operators of commercial vehicles linking up with their respective representative bodies. We must do so again with additional emphasis, for the problems now confronting almost all branches of the transport side of our industry are even more important than was hitherto the case.
It has definitely reached the stage where no commercial user, whether he be haulier, passengervehicle operator or is on the ancillary side of road transport, can afford to neglect what _should be a primary precaution.
Only when united with their fellows in their respective spheres can those in our industry speak with any authority and strength. We are not particularly concerned with the actual organizations they join, provided that the latter be virile and fully conscious of the needs of the times. We have little doubt that, in matters of national interest or that of the whole-industry, most of the representative bodies would be prepared to co-ordinate their views and ambitions, and endeavour, so far as possible, to avoid sectional friction.
The Government may be only too willing to seize upon signs of disunity as an excuse for instituting at least a larger measure of control, whereas Mr. Herbert Morrison himself has said, in effect, that, to avoid this, an industry must prove that it is progressive and fully capable of attending to its own work and of maintaining economic stability. The industry must take this as a strong hint of what may follow unless it be able to provide the necessary proof of its capabilities, and it is the associations which can do more in this direction than can any number of individuals.
At present some hauliers are inclined to be,a little envious of the ancillary users; the latter, in, turn—and possibly in consequence—tend to be suspicious of the intentions of the hauliers. It would be as well if such ideas were to be dis.pelled, particularly as, quite often, the C licensee is, to a considerable extent, the customer of the man making his living by hire or reward, and as such must receive courtesy.