Passing Comments
31st August 1945
Page 14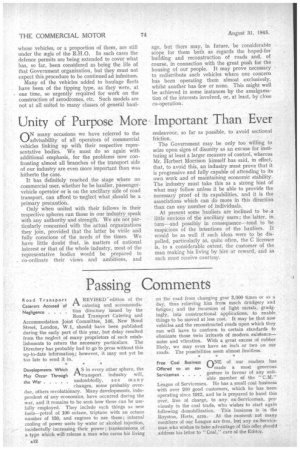 Page 15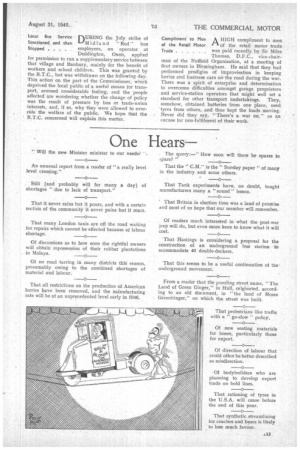 Page 14, 31st August 1945 —
Passing Comments
Close
Road Transport A REVISED -edition of the Caterers Accused of 1-1. catering and accommoda
Negligence . . tion directory issued by the Road Transport Catering and Accommodation Joint Committee; 146, New Bond Street, London, W.1, should have been published during the early part of this year, but delay resulted from the neglect of many proprietors of such establishments to return the necessary particulars. The Directory has probably had to go to press without this up-to-date infottnatios.; however, it may not yet be too late to send it in.
Developments Which A S in every other sphere, the May Occur Through rm. transport . industry will,
the War undoubtedly, see many changes, some probably overdue, others revolutionary. Many developments, independent of any economics, have occurred during the war, and it remains to be seen how these can be usefully employed. They include such things as new fuels—petrol of 100 octane, triptane with an octane number of 130, and engines to use these; internal cooling of power units by water or alcohol injection, incidentally increasing their power ; .tranSmissions of a type which will release a man who earns his living
on the road from changing gear 3,000 times or so a day, thus relieving him from much drudgery and fatigue ; and the incursion of light metals, grudgingly, into constructional applications, to enable. things to be moved at less cost. It may be that new vehicles and the reconstructed roads upon which they run will have to conform to certain standards to eliminate those twin irritants of modern existence— noise and vibration. With a great excess of rubber likely, we may even have an inch or two on our roads. The possibilities seem almost limitless.
Free Coal Business nNE of our readers has Offered to an ex•-•made a most generous Serviceman gesture in favour of any suit
able member of the "C.M." League of Servicemen. He has a small coal business with over 200 good customers, which he has been operating since 1912, and he is prepared to hand this over, free of charge, to any ex-Serviceman, previously in the coal trade, who wishes to start again following demobilization. This business is in the Royston, Herts, area. At the moment not many members of our League are free, but any ex-Servkeman who wishes to take advantage of this offer should address his letter to "Coal," care of the Editor.
Local Bus Service URING the July strike of
Sanctioned and then 1-"Midland "Red" bus
Stopped . . . . employees, an operator at Deddington, Oxon, applied for permission to run a supplementary service between that village and Banbury, mainly for the benefit of workers and school children. This was granted by the R.T.C., but was withdrawn on the following day. This action on the part of the Commissioner, which deprived the local public of a useful means for transport, aroused considerable feeling, and the people affected are wondering whether the change of policy was the result of pressure by bus or trade-union interests, and, if so, why they were allowed to override the welfare of the public. We hope that the R.T.C. concerned will explain this matter.
Compliment to Men A HIGH compliment to men of the Retail Motor 4Th of the retail motor trade
Trade was paid recently by Sir Miles Thomas, D.F.C., vice-chairman of the Nuffield Organization, at a meeting of fleet owners in Birmingham. He said that they had performed prodigies of improvisation in keeping lorries and business cars on the road during the war. There was a spirit of enterprise and determination to overcome difficulties amongst garage. proprietors and service-station operators that might well set a standard for other transport undertakings. They, somehow, obtained batteries from one place, used tyres from others, and thus kept the loads moving. Never did they say, "There's a war on," as an excuse for non-fulfilment of their work.