Oil Tractors for Wool Transport.
30th March 1911
Page 3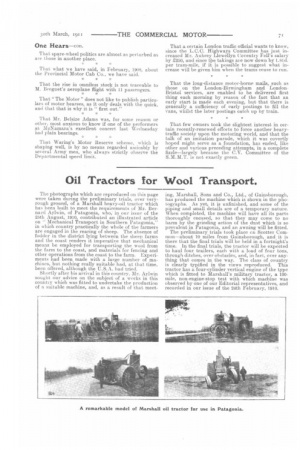 Page 3, 30th March 1911 —
Oil Tractors for Wool Transport.
Close
The photographs which are reproduced on this page were taken during the preliminary trials, over veryrough ground, of a Marshall heavy-oil tractor which has been built to meet the requirements of Mr. Bernard Aylwin, of Patagonia, who; in our issue of the 25th August, 1910, contributed an illustrated article on Mechanical Transport in Southern Patagonia," in which country practically the whole of the farmers are engaged in the rearing of sheep. The absence of fodder in the district lying between the sheep farms and the coast renders it imperative that mechanical means be employed for transporting the wool from the farm to the coast, and materials for fencing and other operations from the coast to the farm. Experiments had been made with a large number of machines, but nothing really suitable had, at that time, been offered, although the U.S.A. had tried. Shortly after his arrival in this country, Mr. Aylwin sought. our advice on the subject of a works in this country which was fitted to undertake the production of a suitable machine, and, as a result of that meet ing, Marshall, Sons and Co., Ltd., of Gainsborough, has produced the machine which is shown in the photographs. As yet, it is unfinished, and some of the piping and small details are of a temporary nature. When completed, the machine will have all its parts thoroughly encased, so that they may come to no harm by the grinding action of the dust which is BO prevalent in Patagonia, and an awning will be fitted.
The preliminary trials took place on Scotter Common—about 10 miles from Gainsborough, and it is there that the final trials will be held in a fortnight's time. In the final trials, the tractor will be expected to haul four trailers, each with a load of four tons, through ditches, over obstacles, and, in fact, over anything that comes in the way. The class of country is clearly typified in the views reproduced. This tractor has a four-cylinder vertical engine of the type which is fitted to Marshall's military tractor, a 100mile, non-engine-stop test with which machine was observed by one of our Editorial representatives, and recorded in our issue of the 24th February, 1910,