One Hears— Much to which one is indifferent.
30th March 1911
Page 2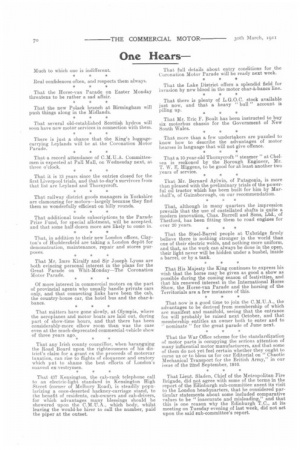 Page 3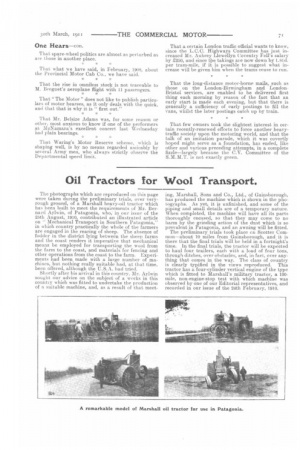 Page 2, 30th March 1911 —
One Hears— Much to which one is indifferent.
Close
Real confidences often, and respects them always.
That the Horse-van Parade on Easter Monday threatens to be rather a sad affair.
That the new Polack branch at Birmingham will push things along in the Midlands.
That several old-established Scottish hydros will soon have new motor services in connection with them_ There is just a chance that the King's luggagecarrying Leylands will be at the Coronation Motor Parade.
That a record attendance of C.M.U.A. Committeemen is expected at Pall Mall, on Wednesday next, at three o'clock.
That it is 13 years since the entries closed for the first Liverpool trials, and that to-day's survivors from that list are Leyland and Thornycroft.
That railway district goods managers in Yorkshire are clamouring for motors—largely because they find them so wonderfully efficient on hilly rounds.
That additional trade subscriptions to the Parade Prize Fund, for special allotment, will be accepted, and that some half-dozen more are likely to come in.
That, in addition to their new London offices, Clayton's of Huddersfield are taking a London depot for demonstration, maintenance, repair and stores purposes.
That Mr. Lnre Kiralfy and Sir Joseph Lyons are both evincing personal interest in the plans for the Great Parade on Whit-Monday—The Coronation Motor Parade.
Of more interest in commercial motors on the part of provincial agents who usually handle private cars only, and that connecting links have been the cab, the country-house car, the hotel bus and the char-itbanes.
That matters have gone slowly, at Olympia, where the aeroplanes and motor boats are laid out, during part of show-time hours, and that there has been considerably-more elbow room than was the case even at the much-deprecated commercial-vehicle show of three years ago.
That any Irish county councillor, when haranguing the Road Board upon the righteousness of his district's claim for a grant ex the proceeds of motorcar taxation, can rise to flights of eloquence and oratory which put to shame the best efforts of London's suavest ex-vestrymen.
That 437 Kensington, the cab-rank telephone call to an electric-light standard in Kensington High Street (corner of Melbury Road), is steadily popularizing a once-deserted hackney-carriage stand, to the benefit of residents, cab-owners and cab-drivers, for which advantages many blessings should be showered upon the C.M.IT.A., which body, whilst leaving the would-be hirer to call the number, paid the piper at the outset. That full details about entry conditions for the Coronation Motor Parade will be ready next week.
That the Lake District offers a splendid field for invasion by new blood in the motor char-is-bancs line* That there is plenty of L.G.O.C. stock available just now, and that a heavy " bull " account is piling up That Mr. Eric F. Boult has been instructed to buy six motorbus chassis for the Government of New South Wales.
That more than a few undertakers are puzzled to know how to describe the advantages of motor hearses in language that will not give offence.
That a 10-year-old Thorny-croft" steamer " at Chelsea is reckoned by the Borough Engineer, Mr. T. W. E. Higgens, to be good for at least another two years of service.
That Mr. Bernard Aylwin, of Patagonia, is more than pleased with the preliminary trials of the powerful oil tractor which has been built for him by Marshall's, of Gainsborough, on our recommendation.
That, although in many quarters the impression prevails that the use of castellated shafts is quite a modern innovation, Chas. Burrell and Sons, Ltd., of Thetford, has been fitting them to road engines for over 20 years.
That the Steel-Barrel people at Uxbridge firmly believe there is nothing stronger in the world than one of their electric welds, and nothing more uniform, and that, as the work can always be done in the open, their light never will be hidden under a bushel, inside a barrel, or by a tank.
That His Majesty the King continues to express his wish that the horse may be given as good a show as possible during the coming season of festivities, and that his renewed interest in the International Horse Show, the Horse-van Parade and the horsing of the Territorials are a few instances of this.
That now is a good time to join the C.M.U.A., the advantages to be derived from membership of which are manifest and manifold, seeing that the entrance fee will probably be raised next October, and that membership entitles an owner both to enter and to " nominate " for the great parade of June next.
That the War Office scheme for the standardization of motor parts is occupying the serious attention of many influential motor manufacturers, and that ROM of them do not yet feel certain whether they ought to curse us or to bless us for our Editorial on " Chaotic Mechanical Transport for the British Army," in our issue of the 22nd September, 1910.
That Lieut. Sladen, Chief of the Metropolitan Fire Brigade, did not agree with some of the terms in the report of the Edinburgh sub-committee anent its visit to the London headquarters, that he considered particular statements about some included comparative values to be "inaccurate and misleading," and that this is one reason why the Edinburgh T.C., at its meeting on Tuesday evening of last week, did not act upon the said sub-committee's report. That spare-wheel politics are almost as perturbed as are those in another place.
That what we have said, in February, 1908, about the Provincial Motor Cab Co., we have said.
That the rise in omnibus stock is not traceable to M. 13 reguet's aeroplane flight with 11 passengers.
That " The Motor" does not like to publish particulars of motor hearses, as it only deals with the quick, and that that is why it is " first out."
That Mr. Belsize Adams was, for some reason or other, most anxious to know if one of the performers at McNamara's excellent concert last Wednesday had plain bearings.
That Waring's Motor Reserve scheme, which is shaping well, is by no means regarded amicably by several Army men, who always strictly observe the Departmental speed limit. That a certain London traffic official wants to know, since the L.C.C. Highways Committee has just increased Mr. Aubrey Llewellyn Coventry Fell's salary by 2250, and since the takings ale now down by 1.81d. per tram-mile, if it is possible to suggest what increase will be given him when the trams cease to run.
That the long-distance motor-borne mails, such as those on the London-Birmingham and LondonBristol services, are enabled to be delivered first thing each morning by reason of the fact that an early start is made each evening, but that there is generally a sufficiency of early postings to fill the vans, whilst the later postings catch up by train.
That few owners took the slightest interest in certain recently-renewed efforts to force another heavytraffic society upon the motoring world, and that the talk of an imitation parade, which it was covertly hoped might serve as a foundation, has ended, like other and various preceding attempts, in a complete fizzle—largely because the C.V. Committee of the S.M.M.T. is not exactly green.